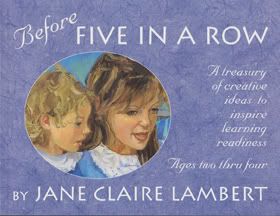 Before Five in a Row is a book geared towards children from age 2 to 4. This book is perfect for my youngest who is 3, so I was excited to be able to review it.
My daughter is dying to do 'cool' just like her older siblings and I thought this would be perfect for that. Well, it's not necessarily, because the things the book gives you to do with your young child makes it so that the child doesn't really even know they are learning. Which, by the way, I think is great. It's just that she wants to do worksheets… I know… not the normal 3 year old!
Anyway, that being said, I definitely still like this book and will continue to use it.
It has 2 main sections. In Part 1, it has a list of stories to read to your child. With that, it also has fun activities and such that you can do that relate to the story you just read. The idea is the read the same book over and over for a week and each day you would do a new thing that Before Five in a Row suggests in correlation with that book. I love this, because I am not the most creative momma and this gives me ideas!
In Part 2, it has tons of ideas and activities to help your child achieve reading readiness and a love of reading. Again, not being the most creative or artsy momma out there, I love that the book spells it out for me.
I will definitely continue to use this book on a weekly basis to help me with ideas to do with my youngest!
Information at a glance:
Name of product: Before Five in a Row
For Ages: 2-4
Price: $35
Where to buy: Rainbow Resource (this is the only place you can buy the book)



~Nicole~
Disclaimer: I received no compensation for this post. I did receive a copy of the book to facilitate the review.