If your kids love to play on the computer, but you want them to do something educational, Big IQ Kids is the perfect solution!
My kids have liked using this program. They can learn math, spelling, vocabulary and geography with it. You can customize it so that it is at your child's level of learning. I love that. Whenever a program allows me to do that, I always put my kids at a level lower than what they should be, just to make sure we haven't missed anything! Then, I can move them up as they progress, OR if you are using Big IQ Kids, you will find that the programs moves your child up on its own. It can perceive when your child is progressing enough to move up a level. Perfect!
So, here's how it works: Your child will do one lesson per day per subject. This will really only take 15 minutes or so. And, again, the program will move them up when mastery is achieved.
Here's an example of a math drill page: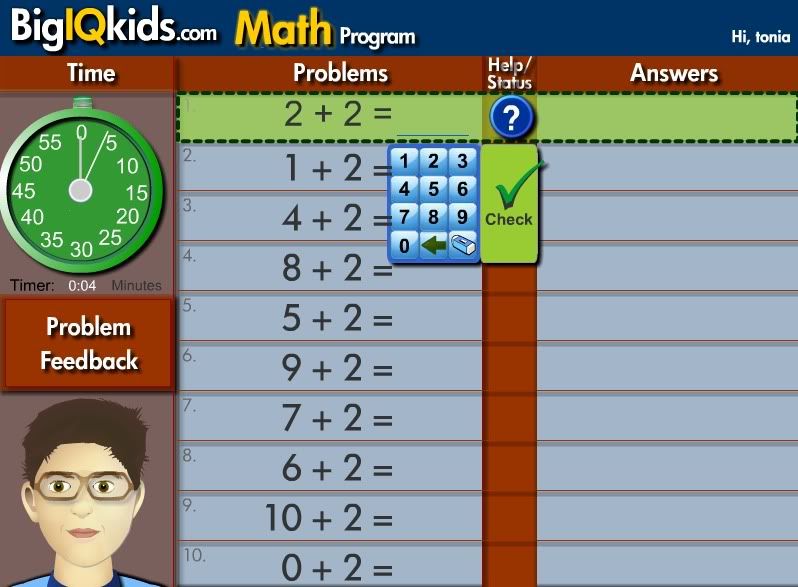 You can set it up so that it gives your child a certain percentage of addition, subtraction, multiplication, division, etc. You can also set it up so that it times them if you want to do it that way, too!
You are able to personalize the spelling program too. The program has a set of word you can use, or you can use your own words if you would like to, as well. It tells your child how to spell the word, the definition, and uses it in a sentence.
The Geography program is great. You can check out the screen shot below to learn all the things it will teach/test your child on… location, spelling, capital and abbreviation.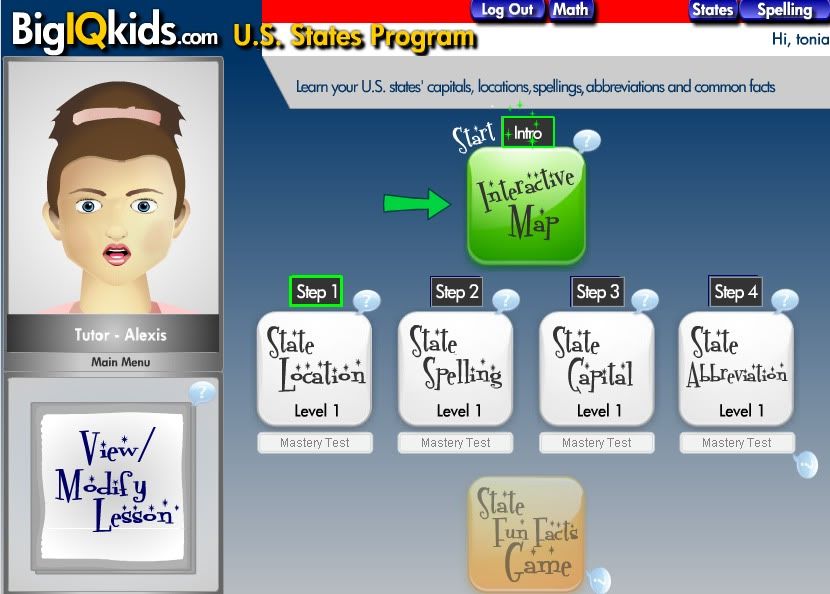 With each lesson your child will earn coins which they can use to play games in the game room. Of course, my kids usually wanted to do more lessons so they could earn more coins and play more games! I would have to cut them off at some point, because educational or not, we limit computer time. It's nice that they are having fun on the computer with something educational, though!
Okay, enough out of me, here's all the info you will need if you want to start using Big IQ Kids!
Name of the program: Big IQ Kids
Site Address: www.bigiqkids.com
For Ages: Grade K to age 99! (Their spelling and vocabulary lists go up to words used for the SAT!)
Price: As low as $7.99 per month. You can also pay for a year in advance if you prefer. Check HERE for complete pricing information.


~Nicole~
Disclaimer: My family has been granted complimentary access to the site in order to facilitate this review.