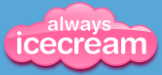 I don't know about your kids, but mine are always asking me if they can play on the computer!  Most of the time, my answer is, "Yes, but it has to be educational."  They don't mind, because we have been able to find some great sites that are educational and fun.
My daughter was so disappointed (kidding!) when I told her we would be reviewing a girls fun website!
It's really a neat site.  I kind of think it's like Facebook, but for young girls.  When S logs on, she can change her status to whatever she wants, and she can chat with friends and so on.  Of course, it needs to be monitored just like a Facebook account would be for a nine year old child, too!  She did get a request from a girl wanting to 'friend' her on the site and I had her say no to the request.
What's cool is that she can invite her 'in real life' friends to set up an account on Always Ice Cream and they can chat on there.  She is excited for her friends to sign up so they can do just that!
On the site, your girl will have the opportunity to earn 'scoops' that she can redeem to do different things.  She has a house on Always Ice Cream and she can use her scoops to buy and decorate furniture.  There are also pets they can buy and take care of in her virtual world.
How do they earn scoops?  Well, I'm glad you asked!  There are all kinds of fun games they can play in the categories of math, geography, bible, language arts, typing, history, science, music and arts, computer skills, and foreign languages and they earn scoops by playing all these educational games.  It is really a comprehensive list of subjects, right!? AND… it gives you a report on your child's progress with the different games/subjects, any communication your daughter had with other girls on the site, and what educational videos she watched.
Here's a little peak at what one of the Geography and Typing games look like: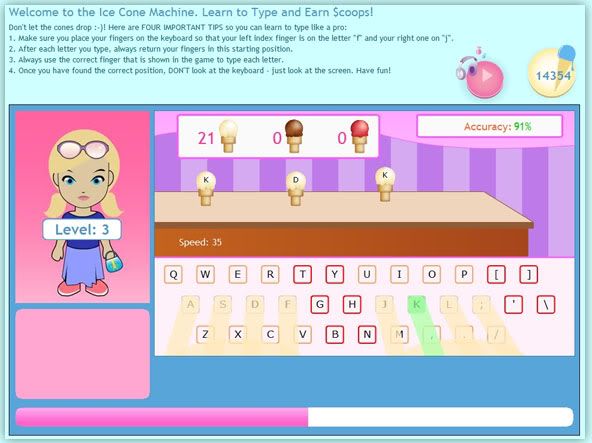 So… let's recap… Kid has fun playing games online = kid is happy… Kid plays educational games online and learns something = parent is happy!
Information at a glance:
Website: Always Ice Cream
For Who: Girls age 7-12
Price: They have different options, from $4.99/mo. all the way to a $99 lifetime membership.
~Nicole~
Disclaimer: I was given a temporary membership for my daughter to use to facilitate this review.