If you are like me, and you listen to Dave Ramsey, then you have definitely heard of E-Mealz.  He is a big supporter of the site!  If you haven't heard about it (and even if you have), I would love to tell you a little about it so you can decide for yourself if you want to use it.
Why would you use E-Mealz??
If you sit down to make your menu plan and you can't think of anything new to make.
If you family groans about having (fill in the blank) AGAIN.
If you don't even make a menu plan!
Okay, let's touch on number 3 for just a moment.  If you don't make a menu plan, I highly recommend you start.  Menu plans eliminate the last minute scramble to figure out what's for dinner or, even worse, going out to eat because you didn't figure it out in time, or you realize all the meat is frozen or you don't have full ingredients, or what have you.  When I don't make a menu plan, that's what it's like in our house, and my hubby notices, too.  He likes having it all organized and knowing what we are having each day and knowing we won't have to go out to eat for lack of planning!
If making out a menu plan seems overwhelming to you, E-Mealz really is the perfect solution for you.  The menu is all laid out for you.  No thinking involved.  It is so easy, that when I first signed up on the site, I thought I was missing something.  But, no, it really is that easy!
You go to the E-Mealz site and choose your plan…I chose Kroger, because that is where I normally shop, but they have gluten free options, Publix, Wal-Mart, low carb, low fat, vegetarian, and more.
After you have chosen your plan, all you do is print your menu for the week, go shopping and you're done!  Every day you know what you are cooking and you have all the ingredients!  So easy!  The menu plan comes with a shopping list, so you don't even have to write that out either.  If you already have some things on the list, just check it off.  They have made it sooo easy!
Here's a sample menu for you to see what you will be getting.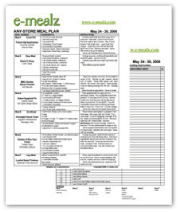 The only downside that I found with the meals is that I make everything from scratch, and some of the meals require cans of cream of whatever soups or other packaged items that we don't eat.  I don't really mind, though, because I can just skip that meal and make something else.  It's been nice to have other options to include in our dinners!
Information at a glance:
What/Where?  E-Mealz
For who? You! (Everyone that wants to make mealtime planning easier)
Cost? $5/month
~Nicole~

Disclaimer: I was given a complimentary temporary subscription to facilitate my review.