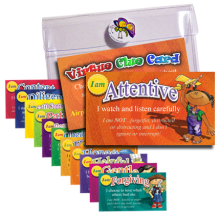 I have recently been on the search for a character study curriculum for my kiddos.  Not that they are bad kids, but just because we all need fun tools to teach different things.  In the midst of trying to teach them academics, often times, every day character traits like patience, can be overlooked.
As part of the TOS crew, our family had the opportunity to review the downloadable coloring book, the teacher's handbook, Family Character Assessment, a verse sheet and the Virtue Clues (mini virtue cards) from We Choose Virtues.
In the teacher's manual there are ideas on how to use the resources given.  For instance, what to do with the coloring book, the virtue clues and verse sheet. 
To be completely honest with you (one of the virtue cards…), I have not really had the time that I wanted/needed to truly review this for you all.  I have been going in to my husband's office with him for 12 hour days and then we went out of town and then I was sick!  Ugh!  I got tired just typing that up…
Even though I haven't used this product as much as I would have liked, I can tell you I DO like it.  I think it will be a great way to help my husband and I instill in our kids the character traits we feel are important.
I hope to update you all in a month or two after we have had more of a chance to check it out more and use it in our home.
Please click on the banner below my name and check out what other TOS crew members had to say about We Choose Virtues!