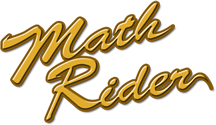 In my observation, girls and boys alike love horses.  I know both of my older kiddos do.
Math Rider is a computer game to help your child aged 6-12 (the age will vary based on ability… the child should know basic addition) learn their math facts.  It goes over addition, subtraction, multiplication, and division.  You don't have to have an internet connection to play it, although you do have to have one in order to download it onto your computer.  Once it's downloaded, you can access it on your computer anytime and up to 8 people can use the program!  That's good news for bigger families!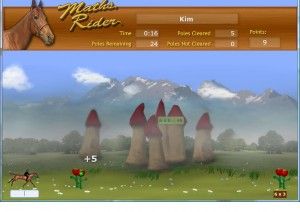 The picture above shows an example of what your child will see when he/she is playing the game.  Can you see the horse in the bottom left side of the screen?  That is your child's character in the game.  This 'rider' goes on quests and all along the quest, they have to solve math problems.  Even though they are learning along the way, my kids always love games like this.
Math Rider is a great way to get your child some extra practice on their math facts in a fun way.  So much better than flash cards!!!
~Nicole~
*** I was given a complimentary download of this program as part of my affiliation with the TOS crew in order to review it for my readers.  Click on the banner below to check out what other TOS crew members had to say! ***