K5 Learning is yet another educational website that can give your child some extra help in math and reading.  For me, math and reading are the most important subjects to master.  I feel like if you master those two subjects, the other subjects will be easier to master.
Through the TOS crew, my kiddos were given the opportunity to review the K5 Learning site.
As far as their review of the site… they definitely like it.  My kids really like doing school on the computer.  The don't mind written work, but when they are allowed to 'play' on the computer and it somehow counts as school, they love it!  That's not to say they love every 'school' site they have ever used online.  There are definitely ones that they found boring, or too hard, or too easy and so on.  So far, they have really enjoyed K5 Learning.
As for my review of the site… I like it too. :)  The site has an assessment test you can give your child.  The test is totally optional, but what homeschool (or not) parent wouldn't want to know if their child has learned what has been expected of them over the years??  We have been extremely relaxed homeschoolers in past years, so I was excited (and a little scared) to let my kids take the assessment test.  I will say, the test was a bit long and my kids got bored with it… but what test is fun, right??  The assessments are testing your kids in different areas of math and reading… comprehension, phonics, geometry, measurement, etc.  I was quite pleased with my kids assessments.  There were areas where they were an entire grade level above what they 'should' be, but they both need to work more on geometry.  Oops… I must have dropped the ball in that area…  That's okay though, because of those assessments, now we know what we need to work on!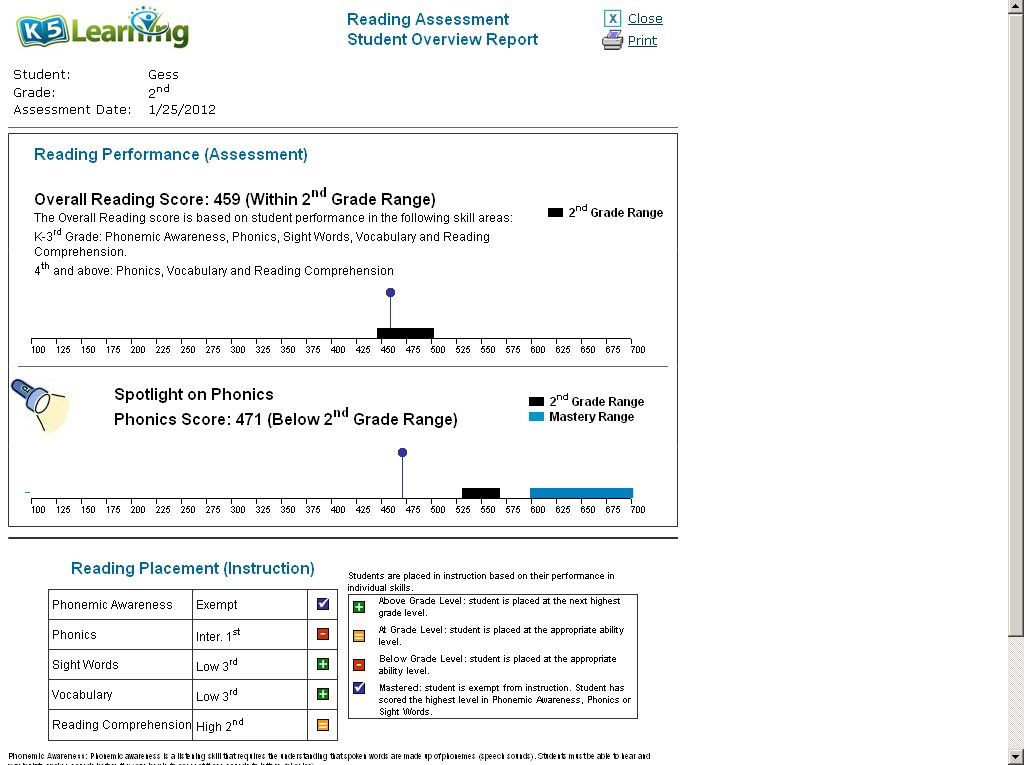 The picture above is an example of the results (not my kids… just a sample) of a Reading Assessment.  It tells you what grade your child falls in overall.  Then it breaks it down into the different areas (phonics, sight words, etc.) and tells you what grade they fall in for each of those areas.  I love that because it tells you exactly what you need to work on!
Information at a glance:
Age? Kindergarten through 5th grade.
Price?? $25/month or $199/year for the first child.  Add'l students are $15/month or $129/year

You can also get a free trial of K5 Learning for your household.  Please let them know Some Call It Natural sent you when you sign up for your free trial.
Click the TOS crew banner below to see what my fellow crew members had to say about the program.