Not a homeschooler??  That's okay!  You will like this review too!
I know I do a lot of homeschool type reviews, but I want all you non homeschooling parents to know that this review is for you too!
CapJaxMathFax is a computer program for your kids to practice their math facts.  You don't have to have internet to use the program, because you will download it on your computer and can use it when it is convenient for you.
So, why would you use CapJaxMathFax instead of the tried and true flash cards?  CapJaxMathFax has a system that rewards the student with a higher 'rating' when she/he is doing well.  It will also gradually move the child up in level/difficulty as it sees they are doing well with certain facts.  The tried and true paper flash cards are still fine, but I like that the program helps the child to learn facts they are having trouble mastering.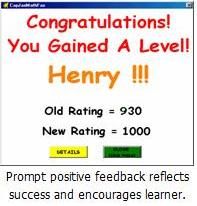 Here is some great facts about the program from the capjax.com website:
CapJaxMathFax™ system has controls that allow small-step goal-setting so progress is evident and guaranteed.

Uses a computer to provide drill and practice so that practice time is not limited by teacher availability.
Automatically generates exercises. Teachers don't prepare quizzes. They merely provide the parameters for them.
Builds exercises for any of the four math tables (addition, subtraction, multiplication, division) or any combination of tables.
Guarantees student success by taking small steps through levels of difficulty.
Can focus practice at a single level of difficulty or may review earlier levels.
Randomly generates problems without repetition.
Allows variable numbers of problems in an exercise.
Reduces learner stress by timing facts individually.
Provides immediate positive feedback for correct answers.
Provides extra reinforcement for fast, correct answers.
Displays an overall performance report at the conclusion of each exercise.
Prints reports for teacher review and for use as certificates of achievement.
Displays and prints item diagnostic details.
Uses a rating system that allows students to keep personal scores and set goals.
Charts student rating progress graphically.
Maintains a database of student activity over time.
Information at a glance:
Age? Kindergarten and up
Price? $29.95 for up to 10 users
Where to find it? On their website
Check out this video talking about the program:
My kids like this program.  They are not super excited to do it.  But when faced with the option of doing this program or other math facts practice, they choose CapJaxMathFax! :)
I had a chance to review this program as a member of the TOS crew, please go check out what my fellow TOS crew members had to say about CapJaxMathFax