IXL is an online math program for PreK all the way up to algebra that is inline with state standards.
It doesn't just say, "Nope, you're wrong!".  It gives a nice explanation of which answer is correct and why.

It is an intuitive system.  What I mean by that is that the program can tell when  a child is having trouble in an area and will offer more practice for it.  On the contrary, when a child is answering all the questions right in a particular subject area, the program will allow the child to be done with it quicker.
Also, you can let your kids do whatever level you feel they need to do.  If you want them to review addition for a certain grade or multiplication for another grade, that is okay.
As they complete different sections, they will get awards and certificates!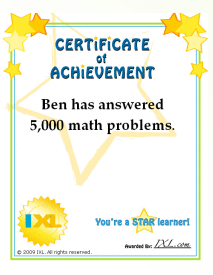 As a parent, if you aren't sitting right there during the lessons, that's okay.  IXL will send you a report of all the things your child accomplished or you can login to the parent area of the website too. (Or both!)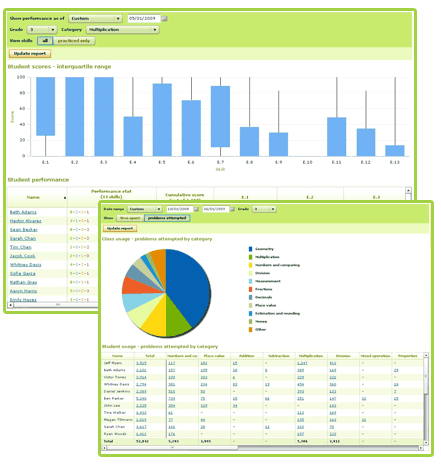 For only $79 you can have access to the site, the reports and all the fun for an entire year!  Not too bad… the price of a book!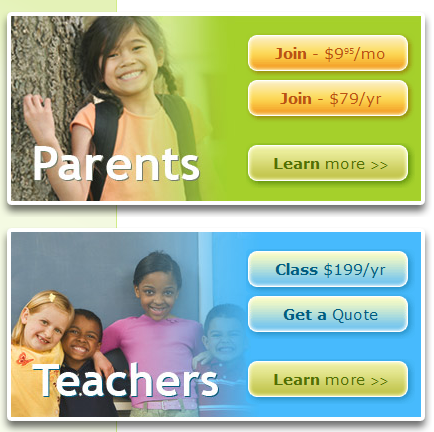 And as you can see, you can get access to the site for an entire class as well.
My personal take on the site:
I like it a lot.  I like that I can pick and choose which subjects (multiplication, money, time, geometry, etc.) I want my children to work on.  I also like that I can see where my kids are in relation to the state standards.  That makes hubby happy. ;)
Honestly, my kids are indifferent to the site.  They think it's okay in comparison to other math sites we've used.  That being said, they said they would rather do IXL over an written math work or flashcards.
My youngest, who is 4, is really the one who loved it.  I mean, LOVED it!!!  She loves that there is something on the computer that is for her.  Normally, only the older ones are able to do the computer stuff.  And it's neat, because she is learning so much and I am learning how much she already knows!
Information at a glance:
For who?  PreK to algebra
Price? $9.95/mo. or $79 for a year
Where is it?  IXL.com