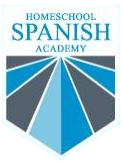 With Homeschool Spanish Academy, your child can learn Spanish from someone who is a Spanish speaking person.  I feel this is a major plus!  That way, all the accents and things like that are being taught correctly.  I have had a good amount of experience with Spanish language so I am able to teach my kids the proper pronunciation for the most part.  I know it's a concern for other parents out there, though, so this program might be just the thing to take the pressure off of you having to say everything just right.  And, even if I know proper pronunciation, that by no means makes me fluent!  It just means I can read it and speak it… now, knowing what I'm reading and speaking are another thing! :)
Basically, the way it works, is your child has a live class with one of the Homeschool Spanish Academy teachers via Skype.  If you don't have Skype, it's no big deal, it's super easy (and free) to set up an account.  So, anyway, your child has a class with a teacher via Skype once a week, or however often is convenient for you.  However, once a week is what is recommended.  After class, the teacher will email you homework for your child to do before the next class.  It is very minimal homework; just enough to reinforce what was learned during the lesson.
Here is an example of the pricing.  You will notice this is the pricing for 'Early Language, Ages 5-12'.  They also have classes for Middle School, High School, and Adults, too!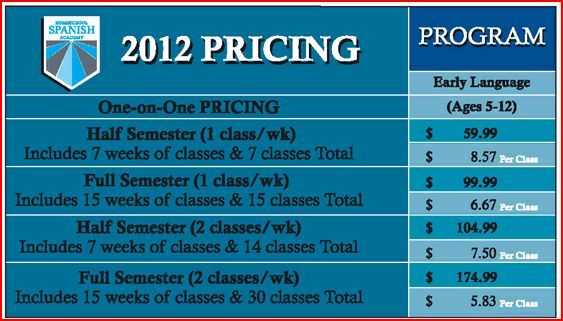 So, what did we think of it??
Well, Samantha didn't really like it after the first class, but she and I both think that's because she was kind of confused as to what she was supposed to be doing.  After that, she liked it and said that she felt she learned more Spanish than she already knew.
I like it, but there were a couple things I didn't like.  Let me start with those things first.  During Samantha's first class, the teacher just basically started speaking Spanish to her immediately…  Asking her questions and it made Samantha feel uncomfortable, because she didn't know the answers.  Now, I understand that it's because they do an immersion style learning, but I guess I feel like the first few minutes of the first lesson should have been taken to explain that to the child.  Maybe they just expect the parent to do that before the class… and maybe they are right?? :)
Well, after the first class, I made sure Samantha understood that they don't expect her to know all the answers to their questions and that was just their method of teaching and I think that helped her feel a little more comfortable.
The other complaint I have is that there were quite a few times when I overheard Samantha say things incorrectly (again, I have been taught the correct way to speak Spanish).  And the teacher said, "Muy Bueno!"… and I was thinking… ummm, no… NOT muy bueno!  I don't want her to say something incorrectly and not be corrected.  there is a chance, I guess, that the teacher just didn't hear her correctly through the computer microphone, though.
Now, those 2 complaints aside, I think the Homeschool Spanish Academy does an excellent job.  Samantha learned some Spanish during her lessons (she actually still has 2 lessons to go) and I love that she has had the opportunity to learn from someone that actually speaks Spanish.  The teachers are very sweet!  The guy (Ron) who takes care of technical support is great.  At one point, we were having trouble hearing the teacher and vice versa, and he took care of the problem for us.  We figured out that if Samantha wore ear buds, the sound quality was much better.  Not their fault… just a computer thing.
Bottom line is, if you would like your child to learn Spanish, and you aren't confident in teaching it correctly, this is an excellent option!  Your child will learn Spanish, and actually learn it correctly!
Information at a glance:
What is it?  An online live Spanish class
For whom? Ages 5 to adult
How much? As low as $6 per class (depending on which option you choose)
Where do I sign up?? Click here —–> Homeschool Spanish Academy