Professor B is a math program with 3 levels that is designed for children in Pre-K through 8th grade.  Unlike other online math programs, Professor B is not intended as a program for you to plug your kids into and then walk away.  You will need to sit with your child and do the program with them.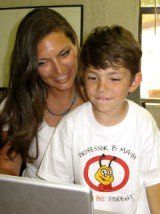 Here is a breakdown of the 3 levels of instruction from their website:
LEVEL I
Pre-k though 2nd graders and remediation of older learners. Introduction to Addition/Subtraction Facts – Counting to One Hundred – Lower Addition and Subtraction – Higher Addition and Subtraction – Place Value Fractional Parts & Order – Time – Money

LEVEL II
3rd grade through 5th grade and remediation of older learners. Multiplication/Division Facts and Problem Solving – Introduction to Fractions – Fractional Equivalence – Addition and Subtraction Fractions

LEVEL III
6th through 8th grades and remediation of older learners. Multiplication/Division of Fractions – Decimals – Percents
Each level is intended to be accomplished in one year, although you may take longer than that if you choose.  So, as you can see from the breakdown above, once you are finished with all 3 levels, your child will be at an 8th grade level in math.
That's not too shabby!  Math is definitely one of those subjects where it would be beneficial to be ahead!  Even though the child will be ahead, there is no pressure from Professor B to perform, so don't let that worry you.
My kids enjoyed Professor B once we figured out which level was an appropriate place to start.
Information at a glance:
What is it? online math program
Where? Professor B
How much? As low as $10/month – However, you can also pay $100 for 3 years access to each level. They haven't updated their site to reflect this price, but if you call 678-765-6655 they will take your order and honor the new price.
Also, you can check out a free trial of the program by going to the Professor B website and clicking on the free trial box in the lower right hand corner.
What age? Pre-K through 8th grade