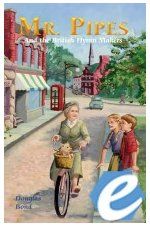 I want to share with you about a book we have read in our house called Mr. Pipes and the British Hymn Makers written by Douglas Bond.  This 242-page book was first published in 1999.  The suggested reading age for Mr. Pipes and the British Hymn Makers is grades 7-10.  The e-book is offered for purchase through the Christian Liberty Press website for $8.79. The print version is available through the website also for $9.89.   It is the first book in the Mr. Pipes series.  Other books in the series, as well as a complete set of the Mr. Pipes series, are available on the website, too.  The other print books retail for $9.89 individually and the complete set retails for $38.99.
The following is a brief synopsis of the book from the Christian Liberty Press website:

"This first book in the series by Douglas Bond tells the story of two teens who, while on vacation in England, are befriended by an elderly English gentlemen called Mr. Pipes. Through this relationship they learn about famous British hymn writers. They also learn about the value of traditional worship and praise."
I have not been good at reading aloud to my kids as they have gotten older.  Since I needed to review this book for the TOS Crew, I used that as an opening to reinstitute bedtime reading.  It has been nice being able to just sit with them and read and I think they are enjoying it also.
This book has wonderful pictures along the way to inspire the imagination of the child to envision what is going on in the story.  I also loved that they had hymns throughout the book just as you would see it in a hymnal.  It gives me the opportunity to talk to my kids about reading music.
My kids have enjoyed this book.  They have enjoyed hearing the hymns and trying to sing them ourselves too!  I look forward to reading more books in this series; Mr. Pipes Comes to America, Mr. Pipes and Psalms and Hymns of the Reformation, and Accidental Voyage: Discovering Hymns of the Early Centuries.