Our kids go to a homeschool enrichment once a week where they are in the same school with kids from Pre-K to 12th grade.  I have had the pleasure of teaching some of the high schoolers at different points.  Just as in public school, there is a range of understanding among the kids.  Some are below their grade level, some right where their grade says they should be and some are way ahead of their grade level.  All that being said, one thing I noticed that was common among a lot of the students is their poor spelling.  For some reason, that is an area that some homeschool families fall short.  I know that in this world of technology, there is spell check and auto correct and maybe some feel it's not as important to know how to spell.  I believe it is still very important to know how to spell the words in our English language!
Enter Vocabulary Spelling City!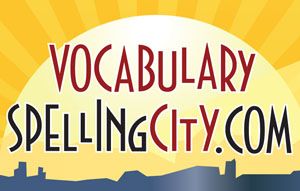 You can use this site to create spelling word lists for your Elementary, Middle, and High School child(ren).  The site will help them with their Vocabulary, Spelling, Writing, Parts of Speech, Handwriting, Alphabetical Order skills.  There is a free version of the site if you want to check it out. 
With the Premium (paid) version of the site, you get extra features for only $29.95 per year for up to 5 students.  That's pretty much a steal if you ask me!  Most books are more than that and you may have to buy a separate one for each of your kids.
So, why pay for the Premium membership?
Each child gets their own log in
No advertisements
You can give each child their own assignments
You will get a record for each child
Access to games the free version doesn't give you.
I'm sure a lot of you have already heard of this site, and may even use the free version of the site.  I do recommend you try out the Premium version.  At $29.95 per family, it's not too much of a risk to try it out.
Let me know what you think!  Have you ever used Spelling City?  Only the free version or do you have a Premium membership?
Information at a glance:
What is it? An online interactive Vocabulary/Spelling website called Vocabulary Spelling City.
For Whom? Elementary, Junior High and High School Students
How much? Free for basic use of the site and $29.95 for a Premium membership