A Cry From Egypt is the newest book from Great Waters Press.  It is written by Hope Auer, a homeschool graduate!
Jarah is a twelve year old girl who lives in Egypt.  She and her family are Israelites, and they, along with all the other Hebrews at that time, are slaves to the Egyptians.  The story is told from her point of view.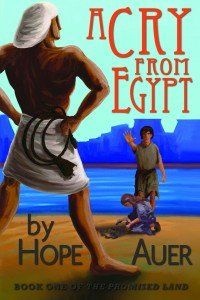 Jarah has a hard life of slavery.  Waking up each day to wait for her orders of what to do, always fearing what will happen if she doesn't get the job done, or what Egyptian soldiers will do if they see her even if she is not doing anything wrong.  Not to mention seeing people being beaten by hand and whipped on a daily basis, including her own family.  It's a lot to take for a 12 year old!
On top of all this, her mother is a believer in the Egyptian gods, and her dad believes in Yahweh.  All of the bad things happening around her make her doubt Yahweh.  Why would he allow her people to be in slavery for 400 years?  Maybe her mom's gods are the right ones?
Throughout the story, Yahweh shows Himself and proves to Jarah that He is there and she can trust in Him.
This book is an easy read.  By that, I mean that I was halfway through the book before I knew it (within an afternoon) and I didn't want to stop reading.  The book is perfect for both of my older children, ages 8 and 10.
The book is biblically and historically accurate, although it is a fiction book.  I think that's part of what makes it enjoyable for my kids.  It is not boring history, even though they are getting a history lesson as they read the book!
Information at a glance:
What is it? a book called A Cry From Egypt by Hope Auer
For whom? children ages 8 and up
How much is it? $12.50 – it can be purchased here
It is a very well written book and I highly recommend it.