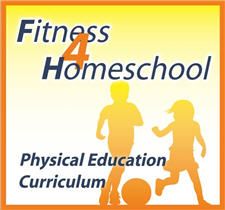 Our kids get outside and play every day.  One of the many benefits of homeschooling is they get more than a 10 minute 'recess'.
They ride their bikes, play on our play set and swing, and many other outdoor activities.
Our kids have also played in many organized sports… gymnastics, soccer, softball, and baseball.
That being said, we have never had a formal physical education curriculum that we have used.
We have had the opportunity to review Fitness 4 Homeschool from Family Time Fitness.  I was happy to be able to review it because while our kids are outside a lot, they do seem to get winded quickly when they are playing organized sports.
I'll be honest here, we were not able to use the program the way it was intended.  We don't have the typical homeschool family schedule.  We own a business and our kids go with us to work.  We have a very long lunch, which is when they have their outdoor play time (and after work, too), but it is still difficult for me to do the program then.
Regardless, we were able to do it and it was great.  I think the more we do it, the stronger the kids will become, physically.  It has so many wonderful exercises that I wouldn't have thought to do.
This is what is wonderful about the program, in my opinion.  Of course, anyone can get outside with their kids and do some exercises.  How nice it was, though, to not have to think about what exercises to do with them, because it was already laid out for me!
An example of one of the lessons: leg swings, toe raises, frog squats, shuffle, skip, hop, a game called jump the river, and there are cool down stretches to do with each lesson as well.
There are 260 lessons completely planned out for you!  They recommend you do the lessons 3-5 times per week and they take about 30-45 minutes.
And, if you don't know how to do any of the exercises, most of them have a link to a YouTube video that will demonstrate it for you.  This definitely came in handy and was an asset to the curriculum!
You will need a few items to do the program successfully, although if you don't have them you could improvise or skip those activities and the program is still valuable.  Some of those items include a jump rope, hula hoops, bean bags, cones, and an assortment of balls.
Also, if you kids are involved in a homeschool co-op or enrichment program, this curriculum could totally be used with the kids there.
I teach 4th, 5th, and 6th grade P.E. at our homeschool enrichment.  One week, it was rainy, so we couldn't go outside, so I decided to used this curriculum with them inside.  The kids had a blast!
Here are the 6th graders doing the crab walk.  We had limited space, but we were able to work with what we had.
Here are a couple of the girls from 5th grade after we did a series exercises.  One of them is being quite dramatic. lol  (Sorry for the blurry faces, but I never asked their parents if I could post their kids on here.)
And, here are the cutie patootie 4th graders doing one of the moves in the 'Rocking Horse Series".
I think this is a great program and I highly recommend you check it out.
Information at a glance:
What is it? A physical education curriculum designed for the home school
For whom? Grades K through 8th/ Ages 5-13
How much is it? $57 (Very reasonable to me for a program that gives you so many different lessons to do throughout the year.  AND, you can repeat it year to year without getting bored!)