Homeschool Legacy has lots of once-a-week unit study books for your family.  They have so many to choose from!  You can choose to learn about birds, trees, horses, the weather, Native Americans, and many historical choices.  One of them being Lewis and Clark: From Sea to Shining Sea, which is the one we had the opportunity to review.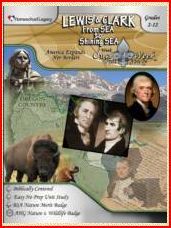 If you have a girl in the American Heritage Girls or a boy in boy scouts, this unit study (and most of the others) can also double as a patch earning opportunity!  By the end of the study, you girl will have earned most of the Nature & Wildlife Merit Badge and your boy will have earned his Nature Merit Badge!
Lewis & Clark: From Sea to Shining Sea is intended to be a 7 week study for grades 2 through 12.  My oldest two are are in 3rd and 5th grade, so it is great that I am able to do this with both of them at the same time.
It is recommended the unit study be done once-a-week, as it's name implies and that one entire day be devoted to just that.  If, however, you can't devote an entire day to the unit study, you can do it in 4 days per week.  Most of the unit studies consist of 4 activities, so you can just do one activity per day.
We already have enrichment classes we go to throughout the week, so taking an entire day to do unit studies isn't really an option for us.  It is nice that the study is laid out in such a manner that we could make it work for our family.
The unit study comes with a list of books/videos you can check out at your library to enhance the learning.  Also, the books/videos are separated by week, so you know exactly when you will need them and can prepare for the week ahead.
Speaking of preparing… there is not a whole lot of preparation to do when you are using Homeschool Legacy's Once-a-week Unit Studies.  At the beginning of each week, they give you a list of all the books and movies you will need, as well as a list of supplies.  That doesn't mean it is 'hands off'.  You will still need to be right there with you child for many of the activities helping them along in their journey.
They will learn all about Lewis & Clark's journey, as well as learn about Geography, History (kind of obvious), Science, Writing and Vocabulary, Bible, Art, and research skills.
We have never done unit studies, but have heard great things about them, so we weren't real sure what to expect.  Well… the kids learned so much and had fun too!!!!
Information at a glance:
What is it? Lewis & Clark: Sea to Shining Sea Once-a-week unit study by Homeschool Legacy
For whom? 2nd through 12th grade
How much is it? $19.95
Where do I buy it?  You can get it on the Homeschool Legacy website, along with any others you may be interested in buying.  And, there's free shipping on all orders over $50!