Growing Up Wild is a DVD series about the Wild family who are missionaries in Indonesia.
Now, before you stop reading because this looks like another homeschool review, please read a few more lines.
The series is a great compliment to any homeschool or Sunday school curriculum, as well as summer programs, VBS, private/Christian schools or anywhere else you can think of to watch it. It might even be good for a few families to watch together once a week or so?
There is a cd that comes with each volume in the series that has activities to do that go along with each episode. The activities would be great to be used in any group setting.
The Wild family's goal is to not only entertain kids, but to give them a thirst for serving and hopefully raise up a new generation of missionaries.
At our house (and all the other TOS crew members houses), we got to review the Volume 1 and Volume 2 DVD's.  Each volume in the series contains 3 episodes, along with a cd with an activity guide to compliment the episodes.  Each episode is only about 15 minutes and talks about different aspects of living in the jungle.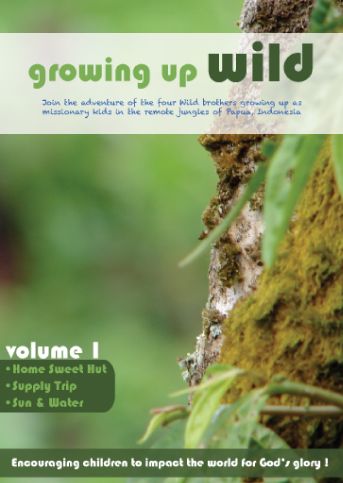 In Volume one we learn all about the Wild's home, how it was made and how it differs from others in the area.  They tried to keep some of the things that would be recognizable in their home if they were in the states.  Then, we learn about how they get supplies and in the last episode we learn how they use natural resources in their every day life.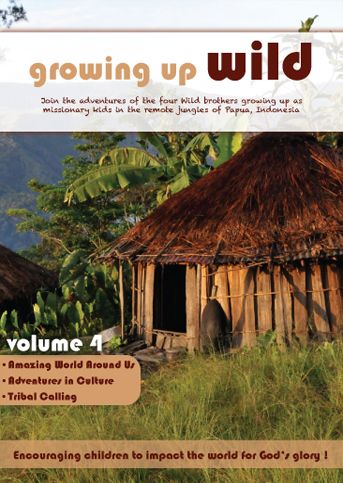 Then, in Volume 4, we learn about all the different and wonderful creatures the Wild family lives with (and by 'with', I just mean in the area, NOT in the house).  In the next episode on this dvd, the Wild brothers (and you, the viewer) learn about the culture of the people in the tribe they live amongst, this includes a nose piercing!!!  Wow.  Anyway, the last episode talks about how the Wild's new their calling was a tribal one.
These dvd's are really great. My son definitely enjoyed them more than my daughter, but I think that's because you are watching boys have fun in a jungle.  Every boys dream, right?
Information at a glance:
What is it? A dvd series about a family who is in Indonesia as missionaries and the fun adventures they go through in every day life.
For whom? Geared towards children ages 5-12
How much is it? Each dvd is $18.99 plus shipping and tax. OR you can buy the whole 5 Volume set for $80.99!