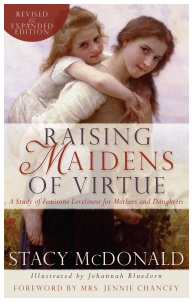 My daughter and I have had the opportunity to review a book called Raising Maidens of Virtue by Grace and Truth books.
First of all, this book is so well made. It is hard bound and just all nice and shiny. I know that sounds weird, but I LOVE a well made book.  The only problem is that I have a problem really using the book when it is made so well, because I don't wan to mess it up.
Okay, now that you know I'm a bit neurotic about hard bound books, I will have to balance it out by saying when I have a soft cover book, I will generally 'break' the spine of it first thing. That way the pages are easier to turn.
I hope you still want to read my blog after knowing how weird I am…
Anyway… back to the review…
Our oldest daughter is 10. Really starting to grow up in so many ways. She has always been way more mature than her age, so talking to her about things have always been easy.
We are now diving into the time of thinking boys are cute and talking about her future husband and what not. Way too early for all that! I don't see a lot of harm in it though.  I remember writing, 'I love so and so' on my notebooks when I was her age.  Clearly, I didn't actually love that person… I didn't really know what that kind of love was yet. And neither does my daughter.
I don't want to become the militant mom that won't allow her to just be a kid. I also don't want her to become immersed in how sexual/sensual this society has become, either.
We started reading Raising Maidens of Virtue together and I think it is really good for us.  We have not finished the book, but I do like it and will continue on with our study of the book.
The book talks about modesty, purity, femininity, and more.  It gives you a way to talk to your daughter about these things from a biblical viewpoint instead of how the 'world' would like you to see things.
Within the book are also memory making project ideas to do with your maiden as well as suggestions for a journal.
Each chapter ends with a set of questions to go over with your daughter to help get a discussion started about what was talked about in the chapter, as well as a prayer that you can say with your daughter. I love the way the prayers are written. They are perfect.
This book will help me with the right words to say to help my girls (my other daughter is only 4, so we have time before we talk about all this) grow up to be modest.  I want them to wear clothes that make them feel good, not clothes that will attract attention.  Now, here is where I differ from most moms that will read this book with their daughters… I do not mind if my daughter wears clothing that some may not consider modest IF she is wearing them because she likes them and not to get attention.  This book will help me convey that.
Right now, I will help her to make the decisions about what she will wear and what is 'modest'.  That way, when she is older she will understand what modesty is and how she can still be 'stylish' and modest at the same time.
Like I said, we are still reading this book.  I am taking my time with it and letting it sink in and allowing questions to come up naturally.  I'm mainly doing this because she is still a bit young and I think it would be more impactful to take our time.  Maybe when we work our way through this book, she will understand why I'm the mean mommy on the block who doesn't allow bikinis!  And, if I'm lucky, she will agree!
Information at a glance:
What is it? A 228 page book called Raising Maidens of Virtue – a biblical study on femininity
For Whom? It is for mothers and daughters to study together. However, the book also mentions doing it with a women's bible study group and in other settings as well.  The book recommends it be used with maidens (girls) between the ages of 12 and 16, however my daughter is 10 and it worked well.  There were a few things she needed help understanding, but not much.  You will have to use your own judgment to know when your daughter is ready.
How much? $18.50