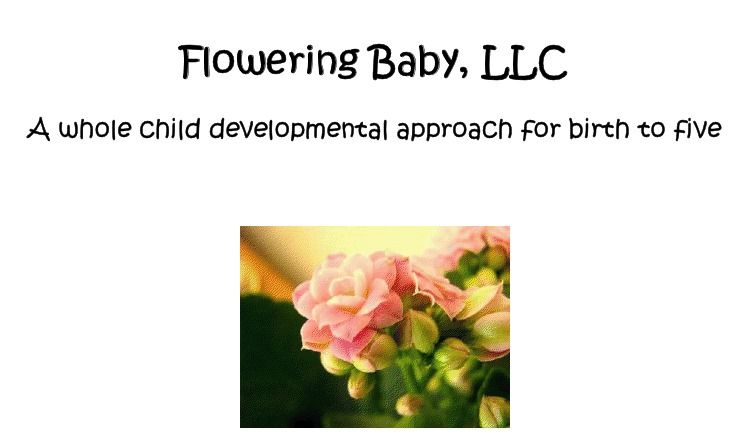 Flowering Baby is a "whole child developmental approach for birth to five". So, what does that mean???
Well, it means it is a curriculum that helps you with what to do with your child that is age birth to five to help him/her develop language, social, cognitive, gross and fine motor, emotional and self-help skills.
There are 5 CD's, each representing a year… for example, birth to one year, age 1 to age 2, and so on. Each one is broken down in month format, so you can buy it any time and begin using it starting with the current month.
Since my youngest is 4… almost 5… they were kind enough to send me the
age 3 to 4 CD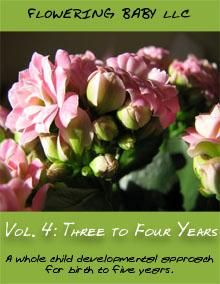 AND the age 4 to 5 CD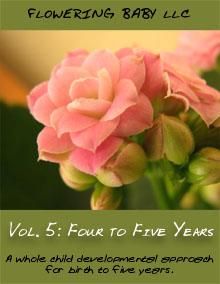 These are not CD's where you pop it in your computer and the child plays games on it. They have a curriculum on them that you can read on the computer or print out. I like to have actual paper, so I printed mine out. (And… rumor has it they are working on a printed version of this, too, if that interests you.)
Okay, so I mentioned the CD's are organized by month, but they are also organized by theme. So, for instance, during winter months, the curriculum will focus more on winter, snow, etc. If there are holidays in that month, there might be something regarding that holiday.
When going through the curriculum, you will cover math, science, reading, some sort of physical movement, as well as music. The curriculum offers suggestions on what music to listen to each month.
The main thing I like about this curriculum is it's massive list of books each month for you to read to/with your child. I am not huge on an organized curriculum at this young age. I would much prefer my child learn using our surroundings and activities. However, I will be reading to my child! And, it's great to have examples of books to read that will not only entertain her, but help her development as well!
This is also the perfect kind of curriculum for my older (11 year old) daughter to do with my preschooler while I do something one on one with my son. It gives them some great girl time and frees me up to spend time with him.
The activities/lessons you will do with this program are very simple.
If you are new to homeschooling, this is honestly a perfect place to start. The authors lay everything out for you so you don't miss a thing!
Click the following links for more information and for a full month of samples of each level so you can get an idea what the program is all about. The samples are at the bottom of each page.
For a 10% discount on these CD's enter the discount code "Blog10" when ordering!
Information at a glance:
What is it? a CD program (printable) to help a child develop in the younger years
For what age? This program is for ages birth to 5
How much is it? The first 3 CD's are $30 each, while the last 2 (ages 3 to 4 and 4 to 5) are $38 each. Or you can get all 5 CD's for $132! And don't forget to use your 10% discount code: Blog10