Knowledge Quest is a wonderful company that has maps, timelines, games, geography programs, and historical biographies. The kids and I have had the opportunity to review their eBook entitled, "Sacagawea: Brave Explorers Every Child Should Know".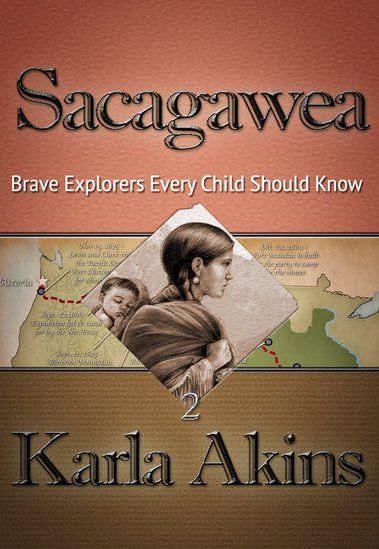 It is only 112 pages and we used it as a read aloud. That way, even my 5 year old could learn a little bit about Sacagawea. Obviously, I don't expect her to remember any of it, but when it is time for her to learn about the subject, she will have a better time remembering it since she's already been introduced to it!
The book is written in a story form. It is not your typical boring bibliography. It is told from Sacagawea's perspective with thoughts that she may have had learning about the white man's way of life. Of course, when history is written in this way, there are some things in the story that may not be exact, but it does make it easier to read. I don't want that to concern anyone though… I feel like it is one of the best things about the book, because it is written in a way that makes it interesting to read!
My favorite part of this book is definitely the links. There are links embedded within the story that you can click on to get more information. For example, on just the first few pages, there are links to William Clark, river otters, buffalo grass, prairie dogs, Fort Mandan, earth lodges, and many more.
I thought the best way to use the links was to look all of them up and talk about them before we read it in the book. So, basically, if I planned on reading one chapter with the kids, we would look up all the links in that chapter before we read it. That way the kids would have a better idea of what we were reading about and not be confused by words or names they had never heard. We would not look up the links and read the chapter all in one day. It would take a day or 2 to look up the links depending on the information in the links. Then, the chapter would be read on another day.
This is a very enjoyable eBook and a wonderful way to learn about Sacagawea!
Information at a glance:
What is it? Sacagawea eBook from Knowledge Quest
For whom? Ages 10 and up (although younger kids might enjoy sitting in if you use it as a read aloud)
How much is it? There are 4 parts and they start at .99 each. Or you can get the complete saga for only $3.99!