Whether you live in an area with Spanish speaking people or you plan on traveling somewhere where Spanish is the first language, learning the language is not a bad idea!
There are many resources out there to learn Spanish and it can be overwhelming at times to figure out what is best for you. To help us out, Spanish For You! has given us their Estaciones curriculum to review and tell you all what we think! (You can also get sample pages if you would like to check it out for yourself!)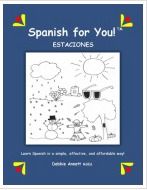 The Spanish For You! curriculum was designed by Debbie Annett to be used by children in grades 3-8, but it can be used by those younger or older with minor adaptations. It is designed to be used over 24 to 27 weeks, depending on the age of your children, with each week consisting of 4 days of work from the curriculum. That being said, you are homeschoolers, so you can spread that out over a longer period of time if you prefer!
The Estaciones curriculum is all about the seasons! It starts out by teaching the months of the year, days of the week, and common weather related terms, like cold and hot. The lessons include some reading, writing, drawing, audio pronunciations, as well as games,  so it is great for any way that your child learns.
When you get the curriculum, you will get a lesson guide which breaks down for you what you and your child(ren) need to do each day. You will also receive worksheets, flashcards, and an audio download of the book, by the author of the book as well as a native speaker audio. All of this comes in a pdf format and can be printed out. We also receive a soft cover  textbook with all the lessons and vocabulary in it, but that can also be purchased in a downloadable format if you prefer.
You get so much with this curriculum, that it can seem overwhelming at first. Don't let the amount of material frighten you! It is laid out nicely and all you have to do is read the guide to see how it needs to be organized. As with any curriculum, you will need to take some time when you first get it to get yourself organized and figure out how you want to proceed on a daily basis. Once that is done, though, the curriculum is laid out in such a way that it makes it easy to stay organized!
One of the great things about this curriculum is that it is good for use with different ages at the same time. You may have to alter a few things, but mostly you don't have to change anything to do with them. That is a big time saver!
Information at a glance:
What is it? A Spanish curriculum called Spanish For You!
For whom? for children in grades 3-8
How much is it? For the entire package, it is $64.95, but you can piece meal it together a la carte. And, remember, that price gets you all grades 3-8 information!
I do recommend you check it out and definitely click the box below to see what other TOS members thought of the curriculum as well.