Next up on the list of reviews I am blessed to do for The Old Schoolhouse Review team (TOS crew) is a product from Memoria Press called Prima Latina.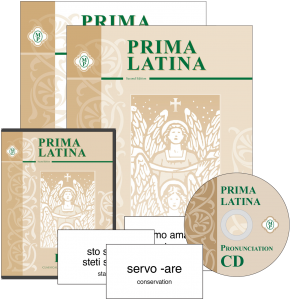 I had always planned on teaching my children Latin. I know that it would help them with their English vocabulary as well as help them when learning other languages, as well. My oldest two will be in 4th and 6th grades next year, so now seems like a good time to introduce it to both of them.
The Prima Latina curriculum is meant to introduce children to Latin and lead them into Memoria Press' Latina Christiana.
Included in the Prima Latina curriculum is the following:
25 lessons, each including grammar lessons appropriate for primary grades
5 vocabulary words with corresponding English derivatives per lesson
A practical Latin phrase per lesson
One line of a prayer per lesson that is learned in totality over 5 lessons
Easy-to-read, 2-color format
I copied that straight from their website, so I would be sure not to forget anything! :)
Children will take a test every 5 lessons to ensure mastery of the material.
My kids would watch the lesson together on the DVD. It was great to watch them do the sounds the teacher on the DVD was telling them to do. So cute. :) I know we don't care if a curriculum makes our kids look cute, but it does help!
The rest of the week, they would work on the lessons in the workbook, along with the flashcards and listen to the CD and songs. Oh… the songs… I love that this curriculum teaches the kids songs and prayers. One complaint from a lot of people (myself included) with learning Latin is that no one speaks it. Since the Prima Latina curriculum teaches them prayers and songs, the children have a way to use the language they are learning, which I think is a huge plus!
Oh, and after the very first lesson that the kids watched on the DVD, my son ran up to me and said, "Salve!" (which means hello). I was happy that he was excited about using the language right away!
I think this is a wonderful curriculum for introducing your children to Latin!
Information at a glance:
What is it? A Latin curriculum with a Christian base
For whom? It is aimed for 2nd – 4th graders (although, I had my daughter who just finished up 5th grade do it with her younger brother, since she has never had any Latin training.
How much is it? $90.90 and includes a Student Book, Teacher Manual, Pronunciation CD, Instructional DVDs, and Flashcards, although it can all be bought separately, as well.