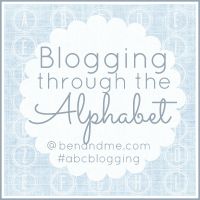 I've been wanting to join Marcy at Ben and Me for her Blogging through the Alphabet series for awhile.
In fact, I joined her for the letter Q, of all letters, in her last series, with my post about Qi. And then, I totally forgot until letter V or so. Since I was so behind, I just decided to wait until the next one began.
Well, I missed the beginning of this one. Not because I didn't know about it. I would love it if that were my excuse. Nope. I just procrastinated.
Last week was letter A, which I missed. This week is letter B. I decided to just combine them!
Always. Behind.
Anyone who has known me very long, unfortunately learns these words describe me well.
I am searching my soul to change that about myself. I am getting better. That's all I can ask, right!?
Writing this post is part of that. I've wanted to join this series and have always put it off. I am not putting it off this time!
Pray with me that I stick with it and that I do well in my journey of NOT being behind all the time!