Today, I want to tell you about a book from the Home School Adventure Co. called The Wise Woman with Literary Analysis Journal Questions by George MacDonald.  I was sent the eBook in order to review it for you all.  Along with the book are literary analysis questions.
The book is a great read aloud  with your children.  The literary analysis questions can be done verbally or as a starting point for journaling.  My kids are 6, 10, and 12… so the questions were done aloud with the 2 younger ones, while I used them as a journaling opportunity for my 12 year old.  We still discussed them, as well, but this was a great writing experience for her.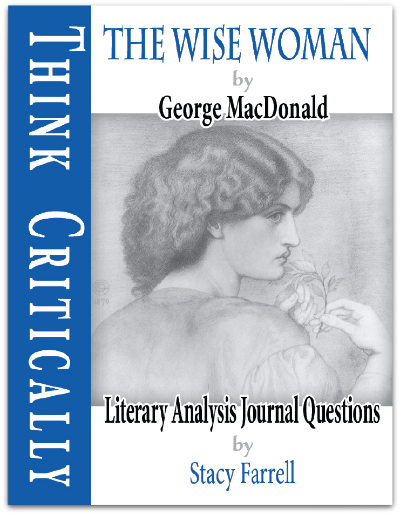 Now, I know the book is called The Wise Woman, but don't allow that to give you the impression it is only for women.  It is for boys, girls, women, AND men!  For the boys and men, we have wolves, hyenas and beasts!  And, just as much that girls and women will enjoy as well.  We all become entranced as we see the story unfold.
There are 14 chapters in the book.  Each chapter will take around 20 minutes to read aloud.  And then, at the end of the chapter, you can either discuss the literary analysis questions or have your child answer them by writing down their answers.  Because one of my kids would be writing down her questions, we did not do the questions immediately after reading.  My oldest would do her questions in her notebook immediately after our read aloud session.  Then when she was finished, we would all discuss them.  Now, there is no "answer key", but since you are reading it aloud with your child, you should be able to figure out the answers.
Some of the questions were too hard for my 6 year old, but the book is really more geared towards 9-11 year olds, so that was no surprise.  She still sat in on the discussion and I'm sure some of it sank in her sweet little brain.  We may have to revisit this book in a few years when she is a bit older.
At the back of the book is a vocabulary section, which can definitely come in handy.  I suggest you look at the vocabulary together before you begin the book to give you a nice overview.  I like doing it that way because a lot of times if my kids hear a word they don't know, they won't tell me.  And then, I don't even know that they don't know what's being talked about.  Going over it first alleviates that problem.
This fairytale, of sorts, allows us to watch how The Wise Woman helps two children, a peasant and a princess, become more compassionate, humble, and selfless.  It helps to show us what will happen when we give in to our children's every wish and command.  An important lesson for any parent to learn and great for any child to see, through the book, what could happen.
If you want to check it out for yourself, you can use the promo code CREW-10 to save 10%.  This offer expires on May 15, 2014.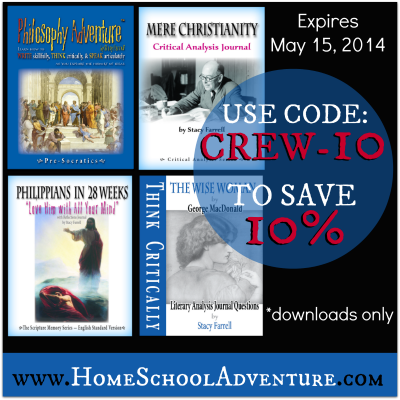 Information at a glance:
What is it? A book called The Wise Woman by George MacDonald and the Home School Adventure Co. along with literary analysis questions.
For whom? Best used as a read aloud for ages 9-11.
How much is it? $28.95 for the printed edition and $14.95 for the eBook.
Read more reviews of this book and 3 other books from the Home School Adventure Co. by TOS crew members by clicking the picture below.