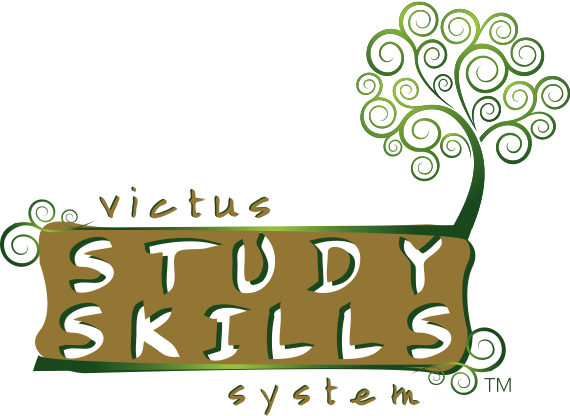 Has your child ever been told by you or another teacher to study for a test?  Maybe you even gave them a study guide?  Did it occur to you that your child doesn't know HOW to study?  It hadn't really occurred to me until I was given the Victus Study Skills System to review.  We were given the Student Workbook and Teacher Edition to review and I am so very thankful!
I had been thinking lately about trying to find a note taking course so that I could teach my kids how to properly take notes when they are in class.  I feel that is an important skill to have when you are learning any subject.  I didn't really think about what they would do with those notes once they jotted them down!
These books really are a wonderful addition to any child's schooling, whether that be public, private or at home.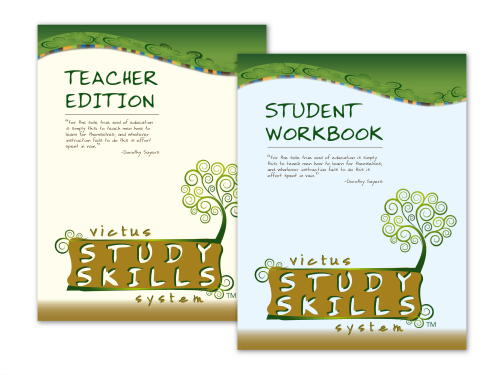 The books are spiral bound and well made.  In the Teacher Edition book, it begins by telling the teacher all about the Victus Study Skills System… how it got started and the basis behind it.
It is based on four main concepts:
That zeal without knowledge is not good, but zeal with knowledge bears fruit.  What this means is that while someone may want to learn a particular subject (zeal), if they don't know how to learn it well, they will get no where.
That results come from the process.  For everything we do, there is a process… a series of steps… if we don't follow each step, the end result will not be what we intended.
Any system with all of its components must have an aim, or purpose.  This one has to do with goals.  The goal of the study system isn't to learn to take great notes, but it is to learn the material and advance to the next level so that you can achieve the successes in life that you strive to achieve.
An effective system of study has the greatest likelihood of aiding in success.  This just means that you don't just sit down and stare and words on paper to study.  You need to have a process of how you will do that and effectively learn the material.
This set of books helps with that.  It helps you figure out how to study effectively.
Not only does this system help you learn how to systematically study, it teaches you how to do that in a systematic way. Imagine that!
It starts the student off with figuring out where they are now… meaning, what are their study habits now.  What do they do well and what could they improve upon.  It also teaches about different learning strengths (visual, auditory, and kinesthetic) and helps your child figure out which one they have the most and what kinds of studying they could do to foster their learning strength.
Next it goes into "where do I want to be" section of the book.  In this section, your child will work on goal setting and how to figure out their priorities.
Then it moves into "How do I get there".  In this section, your child will learn about time management, making a weekly and monthly schedule, how to organize, proper study environment, and then, of course, actual study techniques.
What I love about this book is that it will give my children a knowledge of how to study now, so that when they get to college, they will already know how to study well and will be ahead of the game!
It is only 10 lessons, so you can fit it into your schedule pretty easily.  And the results are worth it if your child is able to study more effectively!
Information at a glance:
What is it? Victus Study Skills System – A 10 lesson study on HOW to study
For Whom? Kids age 5th to 12th grade
How much is it? The Teacher Edition is $40 and the student workbook is $20.  They do have other products to use it in classrooms or on your own.
Check out what other TOS crew members had to say about the system!