Today, I'm sharing with you about a set of albums from Happy Kids Songs by Dr. Mac.  A little about Dr. Mac from his website… "Dr. Mac is a child psychologist, school consultant, lecturer, award-winning songwriter, and writer and director of music for the PBS hit, Jay Jay the Jet Plane."
For the purpose of this review, they sent my family downloads of 3 of their albums:
Friends & Sharing (Set 1)
Happiness & Attitude (Set 5)
Manners & Character (Set 6)
Since the songs are geared towards ages 4 to 8, I downloaded them onto our 6 year old's iPod.
At first, I tried letting my daughter listen to the songs at bedtime.  That was a mistake!  The songs are way too fun for that.  All it did was make her more awake!  :)
Instead, she listens to them at home or in the car, just as she would any of her other songs on her iPod.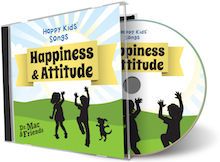 On the Happiness & Attitude album, the songs center on feeling good about yourself.  It teaches about being good to yourself and what's a "kudo".
This little lyric is from the Happiness & Attitude song called Be Good to Yourself:
"If you want to have a happy day… if you want to make good times stay… see the best in everyone with everything you do and don't forget that everyone means YOU, you too!!"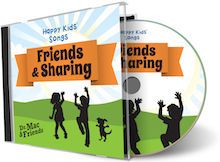 The Friends & Sharing album talks about making friends and how to be a good friend.
Our daughter really likes the "Sharing Friends" song.  She said to me, "You CAN play with 3 friends!  You can play with 3 people at the same time… it doesn't matter how many people you have."  I love that this song reaffirmed what she already believed.  Sometimes it's nice to have that kind of confirmation.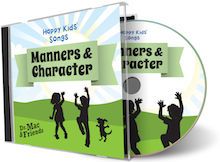 The Manners & Character album starts with a song about honesty and continues on with talking about saying the "magic word" and the Golden Rule.  Plus it has a song called "Quirks" that talks about how everyone has a "quirk" and that's okay!
The one song I don't like is "Shake It Out and Dance" on the Happiness & Attitude CD.  It says, "I can't" over and over again.  It is trying to say you just have a case of the "I can't's" when you feel you can't do something.  I get that it's trying to help kids feel better about themselves and shake off that feeling, but I am a big believer in having the right words entering our minds.  I don't want my kids hearing "I can't" over and over in their songs.  The song has good intentions, I just don't like it for my kids.
On the Happy Kids Songs website, there are lots of pdf's to print off to reinforce what is being learned in the songs.  Lots of coloring and activity sheets.
In lieu of printing the pdf's at home, you can purchase the workbook which has them all bound together nicely, along with some extras, too.  I am thankful to Happy Kids Songs, because they were generous enough to send our family a workbook to enjoy along with the songs!
Information at a glance:
What is it? A set of albums from Dr. Mac & Friends, called Happy Kids Songs.  There are a total of 8 albums, each with 5 songs.
For whom? Kids ages 4-8
How much is it? The albums are $4.95 each.  The workbook I mentioned is currently $12.56 on Amazon, but that could change.