My kids know their math facts.  Sort of…
There are definitely times when they are doing math where they are just sitting there.  It seems like they are not doing their work.  When I ask what they are doing, I find out they are figuring out a problem in their head.
So… they know them, but they don't really know them!  Ya know!?
We have lots of flashcards for them to practice their math facts, but they really don't enjoy doing them.
Enter UberSmart Software!  They have given us their UberSmart Math Facts program for us to use in our home so I can review it for all of you!
I keep saying 'math facts', but what does that really mean?
I'm glad you asked!!  I'm talking about addition, subtraction, multiplication, and division problems using all the single digit numbers and the respective products and differences for the subtraction and division problem. (In other words, 9X8=72, 72/8=9)
If you know all the basic math facts, then you will be able to work through the bigger math problems much quicker!
UberSmart Math Facts is a downloadable software for your computer.  I want to note that it is for use with Windows 7, 8, XP and Vista only.  Sorry Mac guys and gals!
The program uses dot cards, as well as numbered flash cards.
At first, I didn't really like the dot cards.  I really didn't see the benefit in using them versus regular numbers.  After seeing the kids use them, though, I can see the benefit.
As an example, in the flash card above, the program is asking for the answer to 3 + 0.  So the child would need to click on the card with 3 dots.  Once that card is clicked, it makes a pretty ding sound and puts the word "Correct!" on the screen, then changes to the next flashcard.
The program also used the traditional flash cards with numbers.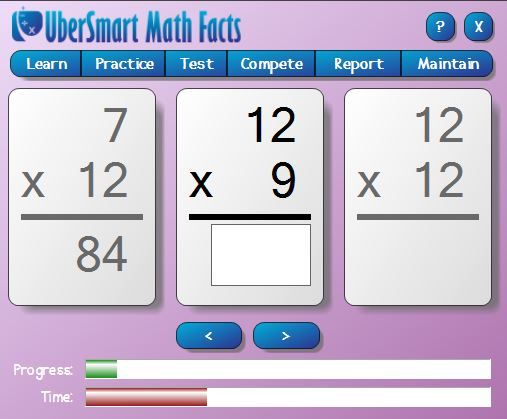 As you can see at the bottom of that picture, the child's progress on that section and their time are being tracked and the child can see how far they have gone and how much more time is left at any point.
I have never really been a big fan of rote memorization.  I don't teach my kids sight words when learning to read and I don't generally teach them math by using flash cards.  Now, once the learning has taken place… meaning they understand why 3 + 4 = 7… I think flash cards are a great way to memorize all those facts.
UberSmart addresses the rote memorization subject on their Frequently Asked Questions page (which I recommend you check out).  Here is what they have to say about it:
"Rote learning has gained a bad reputation because it has been overused. However, there are a few places where rote learning is not only proper, but is essential! Just like memorizing the sounds that letters and letter combinations make is essential to reading fluency, memorizing the math facts is essential to math fluency. With all the studies that show the positive effects that memorizing the math facts has on students, there really should be no doubt that memorizing the math facts is an important part of learning math."
And they also say, "Of course understanding the concepts is important. However, it is not the only thing that is needed. Memorizing the math facts has repeatedly been shown to significantly improve a student's ability to learn math and can be a significant aid to understanding harder math concepts."
It's not just good for them to learn the facts so they can get done with their math work faster!  It actually improves their ability to do bigger and harder math concepts!  Sign me up!  Well… sign my kids up, anyway. ;)
My son (age 10) says he definitely enjoys using this program as opposed to paper flash cards.  I like that.  It always makes Momma's life easier when the kids are happy with what they are being asked to do for school!!!
Information at a glance:
What is it?  A software program for your computer to help your kids learn/practice their math facts.  For Windows 7, 8, XP and Vista only.
For whom? Kids in grades K-6, or anyone needed math facts practice. (And you can run it on multiple computers!!!!)
How much is it? $24.95 for a family license.