This story was originally written by Nan F. Weeks and included in an anthology called Christ and the Fine Arts, by Cynthia Maus. That first version was published in 1938.
David Nicholson first heard the story in his adult Sunday school class when his kid were young. On the way home that day, he thought to himself that he would read that book to his children that year at Christmas and for every Christmas going forward.
I don't know about you, but I have a book like that.. One that I read to my kids every year at Christmas. It is a simple board book that my sister gave to me when my youngest was a baby. It so simply states what Christmas is about, and that is to celebrate Jesus' birthday. It says that we give gifts at Christmas in honor of his birthday.
We read the book every year on Christmas morning before we open presents. It's just my little way of bringing the kids back to the true meaning of Christmas before they tear open their presents.
Now that my kids are older, I am so happy to have found If He Had Not Come and feel honored to have been chosen to review it.
This book is perfect now that my kids are older. My kids range in age from 6 to almost 13 and while the board book we have been reading is great, and I will continue to read it out of tradition, it is really too young for them.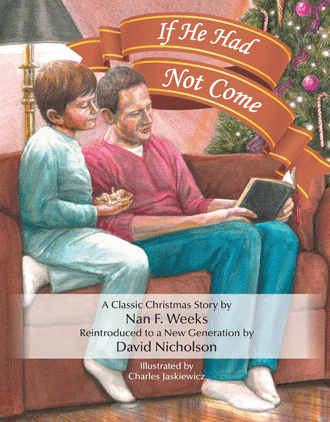 The book, If He Had Not Come, is about a boy named Bobby. Bobby goes to sleep on Christmas Eve and, like any boy or girl on Christmas Eve, is excited to wake up the next morning to open presents.
The thing is, when he wakes up the next day, there are no presents under tree. In fact, there is no tree at all. No stockings hung above the fireplace. Nothing.
He was so confused. He ran out the door of his house and went to the local factory. He asked someone working there why it was open on Christmas. The man rudely blew him off, telling him he had never heard of Christmas and that he was very busy, so the boy should just go away!
He continues all through town trying to figure out what is going on. What he finds all throughout town only proves to confuse him more. All the stores in town were OPEN… on CHRISTMAS!!??
There were signs everywhere that read, "If he had not come".
He also found out there were no churches, homeless shelters or hospitals. What was happening!?
Thankfully, he found this was all just a dream. Jesus HAD come.
Bobby had a renewed commitment to be the very best person he could be. He wanted to make sure he showed how thankful he was that Jesus had come.
Study Materials
In the back of the book, there are some wonderful suggestions for questions and discussions you can have with your kids or Sunday school class after reading the book. It also lists Bible verses for you to reference to dig deeper into the subject.
So with the questions in the back, it really is more than just a Christmas book to read to your kids. It is a book to study Christmas. It is a great book to get now so that you can use it all December long, leading up to Christmas day.
We really did enjoy this book and we feel it is a great addition to any family's Christmas traditions.
Information at a glance:
What is it? A children's book called, If He Had Not Come
For Whom? Ages 6 and up
How much is it? Hardcover book is $18.95 or you can get the eBook for only $3.99