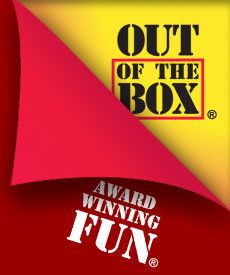 When I got the opportunity to review a game from Out of the Box Games called Snake Oil – Party Potion  through the TOS Crew, I didn't realize how lucky I was!  This game is so much fun!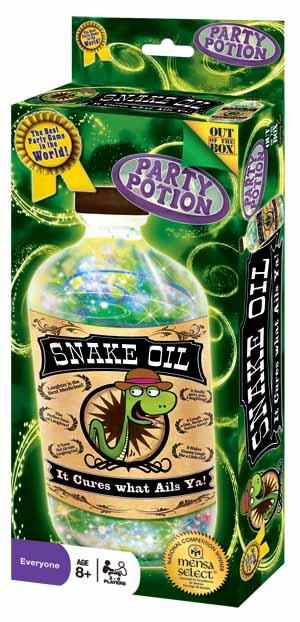 My kids immediately compared it to another game we have (which I don't want to name for fear it will look like I am putting it down), but we quickly learned the differences!  They still like the other game, but as a family we definitely had more fun with Snake Oil than we have ever had with the other.
With Snake Oil – Party Potion, the players take turn trying to sell, or "pitch", a crazy item to a customer.  So, each round, a new person is the customer.  The rest of the players in each round are the sellers.
You start off with 6 word cards.  Whomever is the first customer, picks a customer card off the top of the deck.  This player announces to the rest of the players who they are for that round (chef, fire fighter, dad, etc.).  Then the other players look through their words cards and pick two of them to make them into a product.
Then the customer picks which product he/she likes the most and chooses it.  He/she then gives her customer card to the person whom sold that product.
The winner is the player with the most customer cards at the end of the game, so you have to pitch that product well!
A couple of things my family tried to sell to a chef were… wait for it…
Pimple Curse… Because, you know, if you are cooking for people, they don't want any pimple pus to drip in their food.  The pimple curse gets rid of all pimples all over your body, instantly.
Or… a Gorilla Jar… because if you need to cook gorilla, you will need a jar to store it in before you cook it.
And, one more for a chef… the Snot Cap… because what if you have a runny nose while you are cooking and you have snot running out of your nose!?  So, you need a snot cap to catch it before it drips!
I can't make these things up, people!  Well, actually, I can and I did.  And so did all my family while playing this game!
I took video and pictures while playing the game and they are hilarious!  I so wish I could share them with you, but my kids are getting to the "please don't share that on your blog or Facebook" age.
So, they are just for me.  Let me just tell you, though, my mom and dad were in town for the first time we were able to play the game and my mom was practically crying she was laughing so hard while we were playing this game!
To learn how to play the game is super fast.  It is an easy game to understand.
The box says it is for ages 8 and up, but my 6 year old played it just fine and had an absolute blast!  In fact, she was the "chef" in my example above and she had so much fun listening to all the pitches.  She loved being in charge of choosing the product.
The ONLY bad thing I have to say about the game is the packaging.  It was kind of a pain to get it back in the box and the box never really shut properly.  Honestly, though, I'm not even sure I could say that is a negative, because it was no big deal putting it in a different box.
We just put rubber bands around the cards and put them in an index card box.
This game might be my new favorite game to play as a family.  I'm not even kidding.
I can't say enough good things about it!  It is so fun and fosters so much creativity from the kids.  I absolutely love it.
Out of the Box games has another game just called Snake Oil that is geared for older kids/adults.  I didn't get that one, so I'm not exactly sure of all the differences.  If you only have older kids, I would suggest you look at the reviews for that one to see if you would prefer that one instead. (click the button just below my signature to see the rest of the reviews)
Information at a glance:
What is it? a game called Snake Oil – Party Potion from Out of the Box Games
For Whom? the box says ages 8 and up, BUT our 6 year old did it with no problem, we just had to help her read some of the words.  (The original Snake Oil game is for ages 10 and up.)
How much is it? $14.99  (The original Snake Oil game is $19.99… again check out the other reviews to see which one you would want.)
How many players? 3 – 6