The Schoolhouse Review Crew has had the opportunity to review a company called Fascinating Education. We were given a full year of access to one of three classes: Biology, Chemistry, or Physics.
The following is an explanation of each of the courses as provided by the site:

My daughter and I were able to review the Fascinating Biology course. Dr. Margulies, the creator of the company, highly feels you should have Chemistry before you take Biology. My daughter has not had Chemistry yet, so they were gracious enough to also give us access to their 6 lesson Chemistry pre-course they have put together to help students that have not had Chemistry to succeed in Biology.
The 6 lesson Chemistry course gives them the Chemistry concepts that are important for Biology, without them having to learn all the mathematic concepts in Chemistry.
When you login and go to your subject, which is Biology in our case, the page looks like this: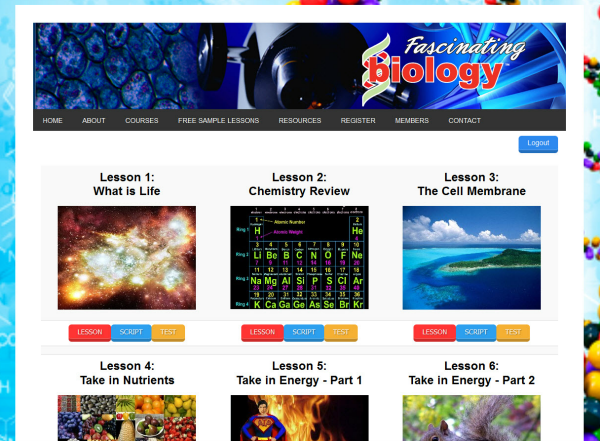 You simply click on the lesson you are on and the video lesson will begin.
In the photo above, you will see there are 3 buttons under each lesson. One says "lesson" and when you click on it, it will take you straight to the video lesson to get you started. The second one says "script" and you can click on it to print off a written version of the video lesson if you would like to follow along. And finally, the third one says "test". As you can imagine, this will take you to a test to make sure your child understands the information they just learned.
The test is not something you print off and take. You take it online. Once you are finished, you get the results of the test immediately. At that time, you can look at the questions again and see which ones you got correct and which ones you missed. And it will show you the correct answers as well. You can also print off your results or retake the test. Note: You must print off the results if you want to keep a record of it. The program does not save your test results.
As you go along, there are also suggested labs you can do at home to reinforce the information taught in the Chemistry course. They are in the process of adding labs to the other courses as well.
My daughter has a lot of Science in her schooling this year. She was not super excited about adding another one. That being said, she watched the videos. (Now we have the big decision of which Science program to continue using!)
I did not print off the script for her to read along with the slides. She has done that with other programs and says that it makes it harder for her to learn because she is too busy trying to follow along with the text that she misses the actual information. So she just watched the videos.
There is so much information in each video, I highly suggest students watch them more that once prior to taking the test.
To the left of the video, is a list of the slide titles along with a glossary with important vocabulary words to go with the lesson. When you click on a word, it will display the definition. Your child can test themselves on those definitions right there in the program, make flash cards for them using index cards, or you can put them in an online program like Vocabulary City. Studying those words will definitely help with understanding of the lesson.
The site states the information is enough for mastering of the subject. While that may be true, I prefer more hands-on teaching methods, so I would use this along with something else. I think the explanations are wonderful, so it's still a wonderful asset to go with any Biology program. If you don't mind a program that is completely online, then I'm sure you could use this as your sole Biology (or Chemistry or Physics) program.
Information at a glance:
What is it? An online, video-based, Science course in Biology, Chemistry and Physics.
For Whom? middle and high school students
How much is it? $79 for access to one subject for a year, $125 for access to 2 subjects for one year, and $175 for access to all three courses for a 2 year time period.