Scottish filmmaker, Colin Gunn and Great Commission Films have put out a documentary on the public school system.
The film is called IndoctriNation and discusses the decline of Christianity in America. Specifically, in American government run schools (public schools). The company sent me a complimentary copy of the DVD so I could share my honest opinions about it.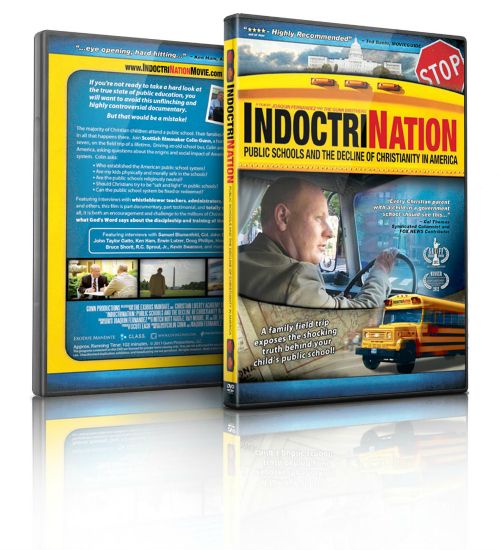 Colin Gunn and his wife homeschool their 7 children in Waco, TX. They decided to take a field trip across the country to interview people within the school system and the government to figure out how our public schools began and how they have changed over the years.
It's no secret that the public school system has been moving away from family values… Values that Christians hold dear… for a long time now.
It has been changed little by little, over time.
So slowly, that we all just let it happen.
We allowed them to teach our kids about sex. It the guise of "Health" education…
We even allowed them to give our kids condoms, because, you know, if they are going to do it anyway, they might as well stay safe and avoid disease and pregnancy.
In the 1960's they took away public prayer in school, but still allowed a "moment of silence".
Then, they took away the moment of silence, too. We mustn't offend anyone by bowing our heads in obvious prayer!
Christians are divided on how to respond to the things going on in the public school system.
Some say to keep kids in the school so they can witness to the other kids and school staff.
And others say, no, we need to take them out to protect them.
What's the right answer?
I'm not sure, but this movie can give you some insight into what is going on inside the schools. Even if you have kids in the school already, so you think you know what's happening.
You may not really know.
One of the people interviewed in the movie is a young woman who recently graduated from a high ranked public high school.
She shared how she saw a gun on her school bus when she was 11.
She, and other young people in the movie, shared how there are numerous pregnancies in their schools, kids come to school high, and how when they are taught about "sex education", they are done so in this kind of manner… "Some people choose to be abstinent, but for all the rest of you…"
"For all the rest of you"… how is that going to make a child feel? Could it not make them feel as if their decision to abstain from sex is "weird" or "abnormal"?
Of course it will!
And now, doubt has set in their hearts.
Will your kids ask your opinion if they hear something at school that doesn't seem right? Or is new information for them?
I would hope so, but we all know that sometimes it's hard to get kids to open up to their parents. Especially about more controversial subjects!!
In addition to all of that, we are also graduating kids that can't read.
We are graduating kids that, when they go to college, have to take remedial classes, because they didn't learn it in school.
So, how did this happen?
Well, like I said, it happened slowly. Starting in the 1600's.
Here are a few people and some facts about them that I learned in the movie. (The movie goes in more depth about those people.)
Robert Owen – Thought the cause of all our problems was religion. Wanted to educate them without religion.
Horace Mann brought compulsory education to our country.
G. Stanley Hall – 1859- brought grade/age based education – not based on knowledge, as it was in the one room classroom
In Dayton, TN, in 1925, there was the Scopes trial. A teacher was tried "for violating a state law that made it illegal for any teacher that taught any theory that contradict the biblical account of human creation and to teach instead that man is descended form a lower order or animals." (direct quote from the movie) The text even stated the Caucasian race is "the highest of all".
Teachers cannot teach creation science along side evolution.
Evolution is the only option that can be taught. Why can't both be taught and the children and their families can figure out which way they agree with?
How do you decide which is true? What is the role in government to decide what is appropriate to teach?
Some will say, just don't send your kids to the school. Problem solved. At this point in time, we still have the freedom to home school our kids.
Yes, of course, this is true, but I feel it goes deeper than that. It doesn't just effect our kids. It effects everyone they will ever come in contact with. It effects our future politicians, teacher, doctors, and so on.
One pastor made a great point… If he announced to his congregation he was going to send his kids to a Muslim or Hindu (or whatever else) school, they would think he was crazy… probably even fire him…. but they have no issue with him sending his kids to a Pagan school.
For me and my house, we will choose to keep our kids home.
This movie is a great way to see what is going on in our school system. The only problem I see with it is that I think it will be preaching to the choir. I fear only those that already agree with the movie will watch it. Hopefully I am wrong about that.
Whether your kids are in public school or home school, this movie is eye opening.
To purchase the movie for your home, go to the IndoctriNation website. It is $19.95.