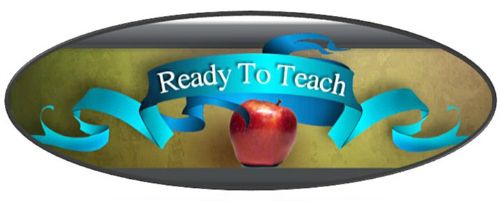 Have you thought about where our words come from?
So many of our words come from the Greek language!
Alene Harris, owner of Ready to Teach, has created a program for expanding your vocabulary through Greek called Greek Morphemes Lessons (It's  NOT Greek to Me!).  I was given a complimentary copy of this program (Instructor's Manual and Student Workbook) in order to review it.
Do you know what morphemes are?  I'm embarrassed to say that before I got this book, I didn't know that word.  As defined by Merriam-Webster, a morpheme is a word or a part of a word that has a meaning and that contains no smaller part that has a meaning.  In other words, prefixes, suffixes and roots.
I love this.  It seems like most Greek programs are all about roots.  Those prefixes and suffixes are important, too!!  They can completely change the meaning of a word.
It's the difference between "atypical" and "typical".  The prefix 'a' (which you learn in Lesson 1) means 'not'… so if we have never heard that word before, and we know our Greek morphemes, we know that it means "not typical".
I have always planned on my kids learning Greek and/or Latin in high school.  As of now, they say they want to be chiropractors and knowing Greek and Latin will greatly help them have a head start in college.
In fact, a lot of careers could benefit from knowing those languages, or at least the morphemes from them… any health field, lawyers, authors, and more.
Actually, it doesn't even matter what career you go into, or if you are a stay at home parent.  Knowing Greek Morphemes will significantly increase your vocabulary.  If you know your morphemes, you can break down most words you hear and figure out what they mean.
The Author
I had the wonderful opportunity to meet with Dr. Alene Harris, the author of the book.  She and I happen to both live in/near Nashville.
I emailed her to get her opinion on how to successfully use this program in a one day a week tutorial program.
She graciously created a lesson plan that would allow the program to work in that type of setting and then we met in person to discuss it to make sure I understand it.
I am excited, because next year I will be teaching it at a local tutorial program.  I will also be teaching her Latin Morphemes program.  So, first semester will be Greek Morphemes and second semester will be Latin Morphemes.
If you teach or attend a tutorial program, I highly suggest you add this program as one of your classes!  If you email Dr. Harris, she would be happy to share the schedule with you to make sure your year is a success!
How do you use the book?
The instructor's manual is laid out so nicely.  It has the lesson plan designed so that you know exactly what to do on each day of the week.
The program comes with a thumb drive with power point lesson, self-review games, and transparencies for your to print.
On the first day of instruction, you go through the power point for day one and the student is introduced to all the morphemes he/she will learn that week.  The student will also make study cards on this day.  She will use these study cards throughout the week to help her learn the material.
The study cards are located at the back of the student book.  It is a full sheet that the child will need to cut out.
We put a laminate backing on each of my daughter's study cards to make them more sturdy since she will be using them all year.
In the instructor's manual, there is a set of the study cards already made out for you, the teacher.  All you have to do is cut them out, hole punch them and put them on a metal ring.  This way, YOU can learn the morphemes along with your student.  This will help you teach it more successfully!  I love that it was already done for me!
The next couple of days are spent "working" the words.  This involves writing down the words of the week (which contain the prefixes, suffixes and roots taught on day one), breaking down that word and writing down the morphemes in it and their meanings, using those meanings to come up with a definition ("my definition") and then looking it up to write down the dictionary definition.
Then, your student will create some new words (made up words) using the morphemes learned.  She will then use those made up words in a sentence.
The next day, she will read those sentences to you for you to try to figure out the meaning of the made up words.  This is a fun way to make the knowledge more concrete in the student's mind.
On the last day of the week, the student takes a test on the information.
The books are arranged so nicely.  The author has made the schedule so easy to follow.  She has done all the work for you as far as planning and I so appreciate that!  I love a curriculum that holds my hand and she definitely does that!
How did we like it?
We LOVE it!
I like it so much that I am teaching it next year at our local tutorial!
I think it is such important information for all students to learn.  It will give them a head start in their studies.
In fact, when I met with the author, she mentioned that one of her students came back from taking the SAT and stated that on some of the questions that he didn't know the answer… he knows he got the question correct, because he used his knowledge of morphemes to break down the words in the question and answers!
Information at a glance:
What is it? Greek Morphemes Lessons (It's  NOT Greek to Me!) by Ready to Teach (instructor's manual, student workbook, and thumb drive)
For whom? The curriculum is geared towards 7th and 8th graders, but any student in high school could benefit from it as well, if they have had no instruction in Greek.
How much is it? $69.95 + $12.75 shipping & handling for the instructor's manual, student workbook, and thumb drive.  Extra student workbooks are only $9.95.
What do I think?  BUY IT!!!  ;)