The research done on reading to our kids is undisputed.  Everyone knows and understands that it is good for their brain to read to them starting as young as possible.  It increases the likelihood your child will grow to be a person that enjoys reading.  And, then it is just great for parent/child bonding, as well.
I want to tell you about a children's book by WordsBright called S is for Smiling Sunrise.  WordsBright sent us complimentary copy of the book so we could review it!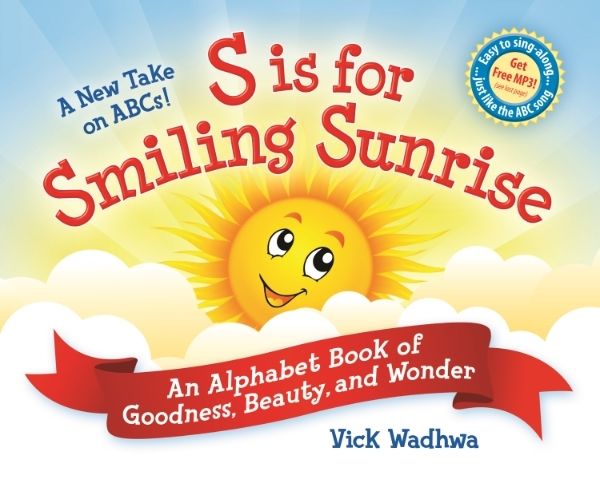 It is a wonderful ABC-book for your child!
It goes through the alphabet using fun rhymes that you can sing along with to the tune of the ABC song.  In fact, you can go on their website and download the song for free!
This is not your typical "A is for Apple" ABC-book.  It is inspiring with values and virtues sprinkled throughout.  For example, on the "D" page it says, "D is for Dawn of Day, That we get up to every day is something new, so always say "Thank you!""
Each page has a four line poem just like that with beautiful images to go along with the poem on it.
As I said before, you can go to their website and get a free Mp3 download of a song that goes along with the book.  My daughter really loves to listen to the song as she is looking at the book.  That is her favorite way to enjoy the book.
Additionally, on the website you can also download free teaching guides that go with the book.
The teaching guides give you pre and post-reading question ideas.  It also goes through each page of the book and gives suggestions on discussion ideas, vocabulary, and activities that go with the page.
With the teaching guides, this would be the perfect addition to any Pre-school or Kindergarten class that goes over a letter of the alphabet each week during the year!
Our thoughts:
I think this is a really beautiful book.  I like the poems in it and the words they use to teach the alphabet.  I like that it uses different words for the letters than we are accustomed to seeing in other alphabet books or songs.  I especially like, and so does my daughter, the song that goes with the book.  What a great addition to the book!
Information at a glance:
What is it? A children's ABC-book by WordsBright, called S is for Smiling Sunrise.
For whom? Ages 3 and up  (Although, we know it is beneficial for kids of all ages to be read to, so you could get it for your child under 3, as well.)
How much is it? The online prices vary.  I saw anywhere from $14.38-$15.25, but if you want to buy it in a bookstore, it is generally $16.95.