Do you record your field trips and fun activities you do with your kids somewhere? Whether you do or not, you may be interested in Apologia Educational Ministries' newest product! It is the Exploring Creation Field Trip Journal.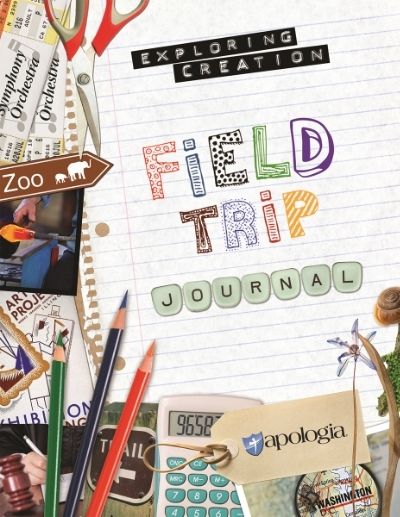 We generally don't record our field trips. I always take pictures… because I'm a pictureaholic… but I don't generally do any other recording of the day.
I was happy to hear about Apologia's new book; their Field Trip Journal.
And even happier for them to send me a complimentary copy so I could check it out and tell you all about it!
When we got it in the mail, I was instantly impressed with the quality.
It is spiral bound, which is perfect for something you may be carrying with you when you go on an adventure. You can just have one page showing at a time that way and it's easier to carry and write upon.
All the pages within the book are a nice, heavy paper, which I like. Apologia cut no corners on this book!
It's not so big that it will be a burden to carry around, either. It's about 65 pages.
It begins with field trip ideas and how to prepare for the field trips.
After the instructions, begins the journaling!
The first few pages are the "Places I've Explored" pages. There are 2 pages each for your state, the United States, and the world. It has columns to write the date you went and your destination. These pages are so simple, but I love them. Your family can fill these out and when your kids are older, they can look at the pages and be reminded of all the fun places they went as a child!
The next section is the field trip pages. There are 2 pages dedicated to each field trip. The first page is to be filled out before you go and then the second page is for during and/or after the trip.
Here is what it looks like:
My son feels as if I am torturing him when he has to write anything longer than a few words. (Can any other moms relate!!??)
So, he didn't really enjoy filling out this page for a field trip we went on.
I'm hoping that when he is older and can look back on these pages, he will appreciate that I *gulp* made him write a whole sentence!! Maybe even a paragraph! *the horror*
There are enough pages for you to record 10 field trips.
The next section is called "My Special Spot".
This is a neat section. The idea is for your child to find a spot somewhere in nature that is not maintained (not mowed, etc.) and go there 4 times a year, once in each season. When he/she goes there, he will record in the journal what he sees. How has the landscape changed? Do you see animal tracks or other evidence of animals? What is the weather like? They can take a picture and/or draw a map of what they see.
This is a way to see how the same area changes from season to season. I suppose that will be quite different depending on where you live in the world. We see all 4 seasons here in Tennessee, so our spot will change from season to season.
The last section of the book is called "As I See It".
This is for anything you want it to be for. They are mostly blank pages where you have more freedom in the way you record things. Nothing has to go in a certain spot. You can write on the entire page, doodle, draw pictures of what you see… wherever your heart leads you!
You can use these pages for specific field trips instead of the main field trip pages. You can also use these pages for things that don't belong in a category. For example, our cat had kittens a couple months ago. We could use these pages to record that awesome experience! It's not technically a field trip, but it's definitely something my kids will want to remember!
I think this is a great book. And one my kids will enjoy… even the one that feels writing is tortuous.
Information at a glance:
What is it? A new book from Apologia called Exploring Creation Field Trip Journal.
For whom? This is truly for all ages! You can even get it for your toddler and fill it out for them so they have something to read when they are older about all the fun places you went when they were young! You can get one book for each child or one for the family. They way you can use it is limitless.
How much is it? $22