We have had a first act drum set for many years now. Unfortunately, though, without proper instruction, the kids lost interest.
Well, really it's just my son that had interest… and he was happy with I told him we would have the opportunity to learn to play the drums through a company called JazzEdge that has a program called DrumsWithWillie!!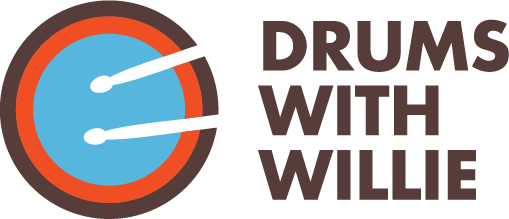 Finally we have the chance to see if drums are something he is interested in learning. And hey, after the one year subscription is finished, if he decides drum is not for him, at least he will be more rhythmically inclined! Win win!
All you need to do the lessons is a drum set and a computer (or tablet… something with streaming capabilities).
They really prefer the drum set has a hi hat, snare, kick drum, and another cymbal… and of course, drum sticks.
I do want to mention that our drum set does not have a hi hat. It is the most basic of drum sets. I emailed customer service and they let me know it would still be fine to do the lessons, but that my son would not be able to do parts of some of them.
They were right. My son definitely was still able to participate in the lessons. Although, there were a couple of times Willie said to use the hi hat. On those occasions, we just used our cymbal. It worked fine. And, again, if this is something my son ends up loving, we will need to invest in a better drum set for him!
When we first started the lessons, we had a bit of trouble. I'm not sure if it was our computer or if it's the program, but the sound was very low. I ended up having to hook it up to our stereo system for our t.v. in order to hear the lessons properly.
The Lessons
When you first begin, Willie assumes you know nothing about using the drums. Which is great, because we didn't!
So, he takes you through setting up your drum set, how to change and tune a drum head, how to hold your sticks, and choosing a drum location. I didn't make my son watch any of those except for how to hold your sticks. I figure when we need to change or tune a drum head, we can watch those at that time (like when we buy a new drum set) and choosing a drum location would be good, but because of how we had to use our t.v. speakers, we were forced to set them up in the living room.
And, because sometimes you just don't have enough trouble in your life, we somehow lost his drum sticks. How does that happen!!??
So, thanks to Amazon Prime, I was to get a new pair of drum sticks with 2 days free shipping! (LOVE me some Amazon Prime!)
So, now that we have drum sticks again, he can start on his lessons!
After the initial few lessons I already told you about where Willie gives some of the basics on how to hold the sticks and so on, it begins with the basics of rhythm.
In Level 1, he begins with teaching single and double-stroke rolls and paradiddles. What the heck is a paradiddle, right!? No worries. He teaches it!
After he teaches those things he encourages the student to practice them on their own. So, it's important to note that when your child is using this program for lessons, he/she won't be staring at a screen the whole time. Some of the work has to be done on their own. Just as any other musical instrument, they need to practice in between lessons.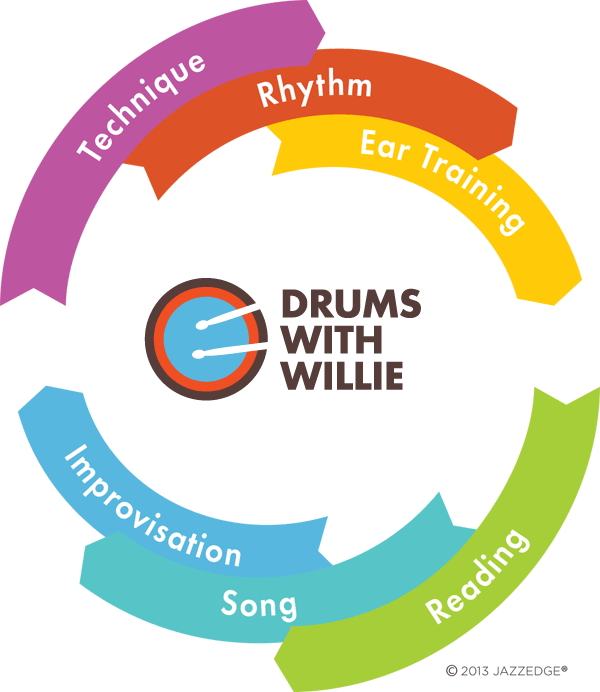 How often you do an online lesson, versus having your child practice on their own, of course, is up to you. I personally want to see some consistency before moving on to the next lesson.
After learning those initial moves on the drums, Willie begins teaches how to read music. Then he goes into teaching double and triple paradiddles. Eek!!
And the skills just keep going from there. Try not to get overwhelmed though, he will review the skills he has taught many times to reinforce the information!
Again, the program is all streaming online (and you can download it to your computer too), so you will need Wi-Fi to access it. There are 3 levels of instruction, in which level 3 you are doing 9 stroke rolls, adding 16th notes to 8th note triplets, paradiddles with variable accents, and more!
Willie really makes the lessons fun and interesting and has a great attitude the whole time. My son is ready to learn more with Willie over the next year.
It's also important to note that there are 2 other programs you can get from this company: PianoWithWillie and Easy Piano Basics. Other TOS crew members reviewed those programs. If you want to check it out, click on the 'Read More' banner below.
Information at a glance:
What is it? Online drum lessons called DrumsWithWillie.
For whom? all ages!!! (Although, they recommend if your child is less than 7, for the parent to sit and do the lessons with them.)
How much is it? $299 or 3 payments of $99.97 over a 3 month time frame.