I'm blessed to be able to use new curriculum and tell you all about it and I'm happy to bring you my next review, which is a product by Alpha Omega Publications.

This review is through my relationship with the TOS Review Crew. The crew was offered many of their products for grades PreK-2nd grade.
They sent me a complimentary Horizons 1st Grade Math Set.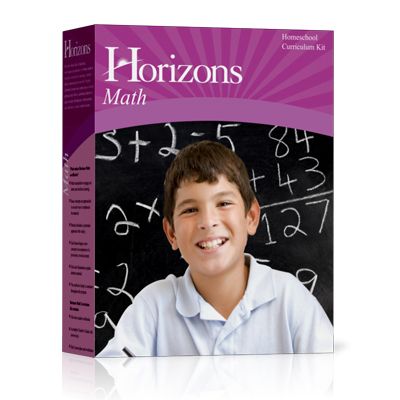 My youngest is going into 2nd grade this year, but she is a bit behind in math. Not because of ability, per say, but because of my teaching style. We have just not done a lot of formal math instruction yet. This is the year we are starting that, so I'm happy to have the opportunity to review this curriculum!
With all that in mind, I chose the 1st grade curriculum so I could catch her up.
I was happy to see that in the front of the teacher's guide there is a readiness evaluation. There are 2 parts to the evaluation. Part "A" of the evaluation asked questions about identifying different shapes, colors, size (bigger/smaller, longest, tallest, etc.), above/below, left/right, etc. She flew through this one, which meant she didn't need to go back to Kindergarten math. I already knew this, but it was nice to see how well she did on the evaluation.
Part "B" of the evaluation she had a bit more trouble.
She can add and subtract in her head and she can count, but because she is not reading yet, she can't read the numbers in word form, which is part of math curriculum. She also had trouble with identifying certain numbers when presented with them. For example, show her the number 54 and she may not know it's name.
So, the harder concepts (addition and subtraction), she did better on than the ones that would be considered easier (counting and identifying numbers).
The good news is that the curriculum has a set of 10 remedial lessons that she could do to "catch her up".
The first 9 lessons involved tracing numbers and matching objects. It was pretty easy for her. The end of lesson 9 and then lesson 10, were more challenging. It jumped from tracing numbers to skip counting.
So we took a bit longer on those. (Don't be fooled by the picture above, the student workbook is filled with lots of colorful illustrations!)
Once she was done with the 10 remedial lessons, we were able to begin the first student workbook.
The first 2 parts of Lesson 1 were very similar to the remedial lessons. It had her tracing the numbers 1 through 9 and then writing them on her own. And then on the 3rd part, it introduced a number line. The last part was a dot to dot.
From there, the lessons begin to teach number order, sets of numbers, big and little, place value, etc.
Because my daughter's knowledge is spotty, some of it is super easy for her and other lessons are difficult. On the easy days, we either supplement with other things, like flashcards of the numbers, which is an area she needs help, or with a math program we have online. Some days, we also just did the next lesson. Since she is working on a book that is a year behind her actual grade level, I don't mind her doing more than one lesson a day so we can finish it faster. I just don't want to rush it and miss the information. I'm definitely more for mastery than for "grade level"!!
The Teacher's Guide lays things out in a way that is understandable for me, the teacher… and I feel makes it easy for the student to understand, as well.
In the back of the Teacher's Guide, there is a set of master sheets that you can reproduce as many times as you would like for your student to practice. It also has the answers to all the student workbook pages and reproducible worksheet pages.
This curriculum will take your child approximately 30-35 minutes to complete each day. Beginning with Lesson 10, there are tests in every 10th lesson, so that day's work will take an additional 15 minutes to allow time for the test.
Overall, I'm very happy with this curriculum!
I really can't think of anything I don't like about it. It covers everything that I feel needs to be covered, gives additional worksheets if needed, gives manipulative ideas, and tells the teacher how to do each lesson. It really is great!
Information at a glance:
What is it? Horizons 1st Grade Math Set from Alpha Omega Publications, which includes a Teacher's Guide and 2 Student Workbooks
For whom? Your student ready for first grade math!
How much is it? $81.95
Remember, my fellow TOS Review Crew members reviewed other products from Alpha Omega Publications, so click the banner below to check out the reviews!