Today, I have a review for you from Maestro Classics.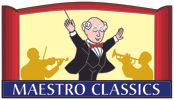 This company has many CD's (and downloads) with symphonies and stories for you to listen to and share with your children.
My family got the chance to review Peter and the Wolf.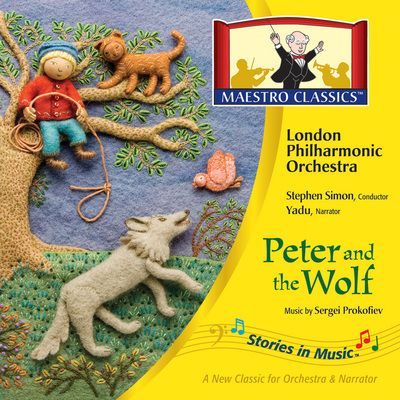 Have you heard this story and the music that goes with it?  It is one of my favorites!!
For those of you whom aren't familiar with the story, I want to tell you a little bit.  The story is about a boy named Peter.  He disobeyed his grandfather, which caused him to encounter a wolf. He was able to outsmart the wolf with the help of a few of his friends – a bird, a duck and a cat.
Each instrument is a character in the story. So, when you hear the flute, you know you are hearing the bird, for example.
I played trumpet for many years in middle school, high school and college, so I really enjoy listening to Peter and the Wolf and trying to identify the different instruments I'm listening to in the story.
About 5 years ago, I took my older two kids to the symphony to hear Peter and the Wolf. They don't really remember it though, and my youngest was too young to pay attention to it. I was excited for them to hear it again.
On the CD, the first thing you hear is an introduction to the story and the characters, as well as the instruments that represent those characters. Then, the story is narrated with the music. There is also a track on the CD where you can listen to it with just the music with no narration.
I suggest you listen to it a few times with the narration first, though.  We listened to just the music after only hearing the story once and the kids couldn't remember which instrument was which. Plus, to an untrained musical ear, it is hard to distinguish which instrument is which after only a listen or two.
Also included is a 24 page booklet with activity pages for the kids to complete. My youngest especially liked it. It has a page where she could match the instruments with the character, a word search, and more!
The CD also has a biography of the composer of Peter and the Wolf, Sergei Prokofiev.
Online, Maestro Classics has a curriculum packet with extra activities you can do and additional things to learn.  This is a great addition for those that enjoy unit studies, as it gives you something to do over multiple subjects and you can finish it in a week or two.
My kids enjoyed listening to this story and the information behind it.  My 7 year old danced around the room like a crazy woman during it!  She loved the music!!  I wish I could have taken a picture and shared it with you all, but she wasn't dressed appropriately to share online. ;)
I think this is a wonderful CD and now I want to go purchase more of Maestro Classic's CD's!  What a great way to enhance my children's musical knowledge!
Information at a glance:
What is it? Peter and the Wolf by Maestro Classics
For whom? Children of all ages!
How much is it? $16.98 for the CD with curriculum booklet and $9.98 for an MP3 download and a PDF of the booklet