Thomas Gomez
Do you and your children enjoy listening to audio dramas? If so, have you heard of Brinkman Adventures??

The Brinkman Adventures follows a family through talking about missionaries and joining them on their journeys!
Their newest release is The Brinkman Adventures: Season 3 and comes as a physical CD or an mp3 download.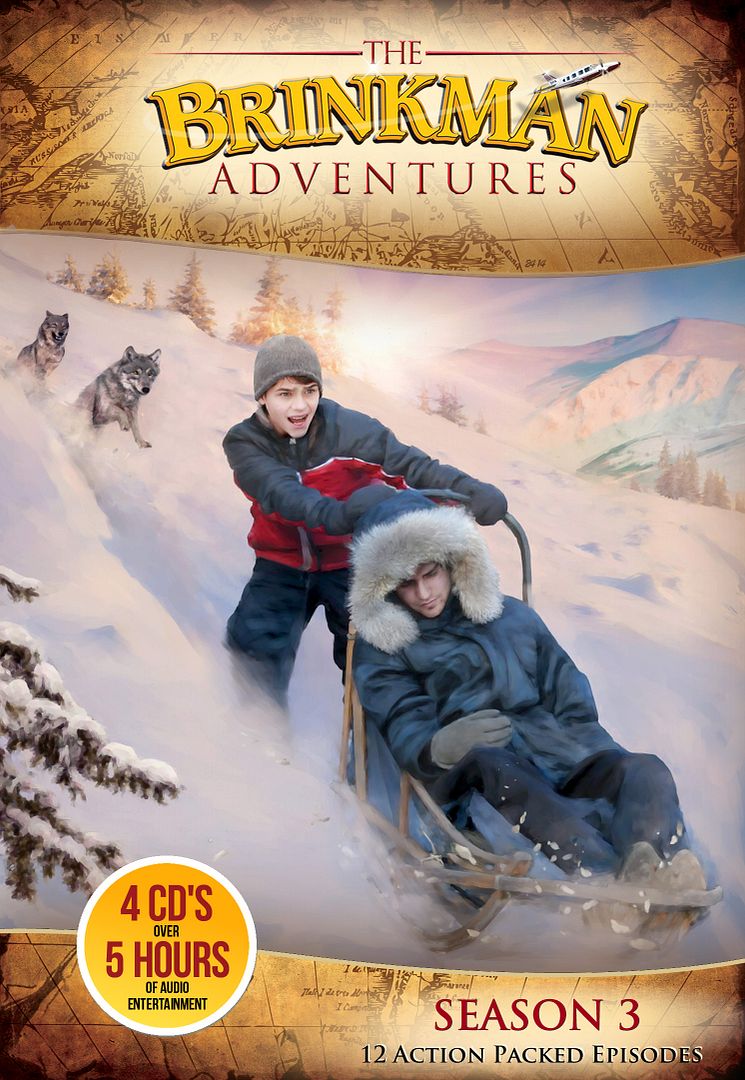 If you get the physical set of CD's, you will receive 4 CD's. Whether the physical version or the download, it is over 5 hours of audio stories!
The 5 hours of stories are broken down into 12 episodes.
They are called:
God's Mule
Mountain Mover
The Silent Ambassador
Translating Trouble
Man-Up
Acorns & Oaks
A Saint's Story, Pt. 1
A Saint's Story, Pt. 2
Untouched
Busy Bees and a Bullhorn
Missionary Tourist, Pt. 1
Missionary Tourist Pt. 2
Each episode is around 25 minutes in length.
The season starts by telling us about a missionary name Thomas. Thomas travels to a country called "Bishmar" to take Bibles to the people there. He has to smuggle them in because Bibles are not allowed in Bishmar.
Because he was smuggling Bibles in to a country where they are not allowed and could get in trouble, they changed his name and the name of the country.  So, the real missionary's name was not Thomas and "Bishmar" is a made up country, but the stories are real.
The Real Stories
I want to talk a bit more about what is real and what is not in these stories. One thing I really like about these stories is that they are real!! That being said, some of the details in the stories have been changed slightly just to make it a better story.
For example, in Episode 1, God's Mule, there is a dog that is a part of the story, but the dog was not encountered by Thomas in his real life adventures. There is also a man with him at one point that was not with him in real life. They included him in the story so that Thomas would have someone to talk to so that the listener would know what Thomas was thinking while on that part of his journey.
How we like it
We have enjoyed these stories quite a bit!
We listen to an episode or 2 at a time. After each episode we go to the Brinkman Adventures website and read about the story behind the story; or what they call the "real story".
The stories behind the stories is how we found out that Thomas didn't really encounter a dog on his journey and how the man he was with in the story wasn't really with him in real life. These "real stories" explain which parts really happened and with parts didn't and WHY they may have changed the story a bit.
I think that is part of our favorite part. It's interesting to read that these things REALLY happened! Since it is dramatized, it is easy to forget we are listening to a true story!
We also like that the real Brinkman family members are the voices for their own characters. The youngest ones in the family are super fun to listen to with their sweet voices!
All in all, we have enjoyed these stories. They help my children to see how lucky they are to be able to worship God and read the Bible without hiding it from anyone. This is something I think we all take for granted.
Information at a glance:
What is it? Season 3 of the Brinkman Adventures
For whom? Children of all ages (and their parents!)
How much is it? $27.99 for the physical CD and $17.99 for the download {Although it's important to note that they work on donations, so if you want to pay more or less, you just have to contact them and let them know.}