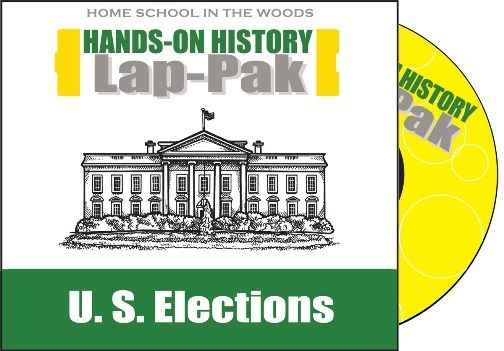 Have you used any of the Home School in the Woods lap-paks?
We have not done a lot of lapbooking in our home school, but the kids seem to enjoy it when we do.
We have recently had the opportunity to review the Home School in the Woods HISTORY Through the Ages Hands-on History Lap-Pak: U.S. Elections. This was great, because it's perfect timing with the upcoming elections!!
My 14 year old has been especially interested in this election. She knows that in 4 short years, she will have a chance to cast her own vote and she is interested in how it all works! I love that she is already thinking about her role in our elections process!
With this curriculum, all of my kids (ages 7, 12, and 14) are able to study the same information.
There were some things involved in this program that were above my 7 year old's head (which I expected, because it is for grades 3-8), BUT she still had a great time with it. In fact, she loved all the cutting and coloring involved in it!
We followed the directions supplied with the program. It told us to put our daily projects in a plastic bag (I used a gallon sized zip lock bag). It keeps things together perfectly until it is time for it to go into your folder.
How it works:
This is a downloadable or CD product. It comes with masters of all the things you will need to print off. An online version of the directions along with a printable directions. It also has pictures of the individual projects, as well as a fully completed lap pak so that you can see what it looks like. This is great for visual learners and visual teachers! There were a couple of times when I read the directions and didn't quite understand it, but when I looked at the picture of it, I understood what the written instructions were talking about!
It also comes with an audio and written version of the the text. We have taken advantage of both of them.
We listen to the audio while we are cutting and coloring a project and I also will read the information from the text out loud to the kids.
Along with the directions for the lap pak are instructions on how to do it with a binder instead. Looking back, I think my oldest would have preferred to have learned the information using a binder instead. She doesn't enjoy all the cutting and coloring. She considers it just busy work. She just wants the meat! ;)
So, in the future, when we do lap paks (or lap booking), she will do it in a binder while her siblings do it using the folder.
I like the way the text is laid out. All the information they need to understand the way voting works in the United States is in this program. It also goes over where we got our voting process and government and how it can be traced back to Greek and Roman roots.
I think this is a great curriculum for you to use if you are looking for something to help your children understand the way the voting process works!
Information at a glance:
What is it? Home School in the Woods: HISTORY Through the Ages Hands-on History Lap-Pak: U.S. Elections
For whom? Grades 3-8
How much is it? $18.95 for downloadable version and $19.95 for the CD version