As a part of the Homeschool Review Crew (formally known as the TOS Crew), we get to check out lots of cool resources you can use in your homeschool. The one I get to talk about today is Educeri … Educeri a division of DataWORKS.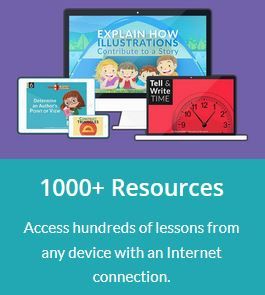 With 12 months of access to the Educeri Lesson Subscription Service, my family has the chance to check out over 1,000 lessons in multiple subjects! The breakdown looks a bit like this:
Math – 413 lessons across all grades
English and Language Arts – 525 lessons across all grades
Science – 22 lessons, mostly middle-high school
History – 26 lessons, mostly 5th grade and up
Art, PE, and Music – 1-2 lessons each
You can find your lessons by grade, concept, or subject.
Ready to Teach
With Educeri, the lessons are laid out for you. As the teacher, your work is done.
You just have to print out the student handouts… Although, you don't even have to do that if you don't want them. I have kind of a love hate relationship with the handouts. I love that they are available and I definitely like having my kids to actual printed work with paper and pencil. That being said, my printer at home is a pain in my rear, so I have to try to remember to print things off while I'm at my office and that doesn't always happen.
And, soon, they will also have quizzes the children can take at the end of a lesson to see how well they understood the information. I'm happy they are doing that, because that way I can see if my kid "zoned out" during the lesson or not! :)
To use Educeri, you will need an internet connection, because it is all web-based.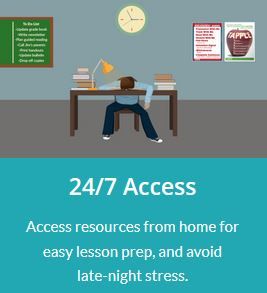 And, it is available to you 24/7 at your convenience, which is nice for those late night or early morning sessions for mom to figure out what lesson their children will do next.
Help for when mom can't be there
I don't know how your homeschool day goes, but sometimes I am helping one child and the other one is waiting on me. Also, some of you know I work in the afternoons outside the house. Sometimes that work brings me out of the house in the mornings too. On those mornings, I can now tell my youngest to work on Educeri!
That's definitely not the ideal way to use it. It's not a plug and play type of program. You do still need a teacher. But if you have an older sibling that can go through it with their younger sibling, then that will work great!
The Lessons
When you find the lesson you want to do, you just click on "teach lesson". This takes you to the lesson, which is laid out in a power point type presentation.
There is no sound with it. There are written out notes on each slide that you would verbalize for the child or they could read them.
And, again, there is something you can click on to get the pdf's for the lesson to download and print if you desire.
I will note, some of the lessons are common core aligned. I generally do not want common core aligned lessons, especially in math. That being said, if I am sitting right with my child while doing the lessons, then I can stop a lesson if it is teaching in a way I am not okay with. The other subjects shouldn't be an issue with common core alignment.
The program can definitely make lives easier when it comes to planning!
Information at a glance:
What is it? Educeri subscription service for their ready to teach lessons for K-12
For whom? Children in grades K through 12
How much is it? You can try it out free for one month, after that it is $7/month or $75/year