My youngest daughter has been enjoying using Times Alive online lessons with animated songs and stories to learn Times Tables the Fun Way!
My poor first born learned her times tables by writing them out every day. She had a spiral notebook that I had her write out her multiplication facts in daily. It was fairly tedious, but she learned them!
I'm happy now that my younger two didn't have to learn that way. My middle child used some fun resources to learn them.
And now, my youngest has been learning them through Times Alive online.
The Times Alive program
It is based on the Times Tables the Fun Way book from City Creek Press.
It teaches all the times tables from 0's to 9's. It teaches them through songs, stories, and games. There are also quizzes every so often to see how you are retaining the information.
You do need an internet connection since it is an online program. You can use it with multiple children and the program will track the progress of each child individually.
It is really easy to use. You just log in, enter the child's name whom is doing the program, and it takes you to the lessons page.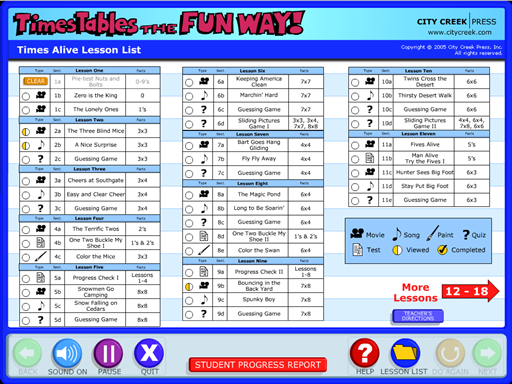 From here, you just start at the top left and do each item in order.
The first box you click on is a pretest to see what your child knows.
After that, it starts with zeros, then ones, and so on. It doesn't go in order, except for those first three numbers. After that, it jumps around a little bit.
There is also a progress report page you can check out where all the quizzes and such will be to show you how your child is progressing through the program. You can also print the report if you need or want it for your records.
They recommend you use the program for 20 minutes a day, two days per week. At that rate, you could be done with it within a month, or two, depending on quickly your child retains the knowledge.
What my daughter and I think
My daughter has really liked this program! And I have too, since she knows her times tables now and there was no whining and no tears! That's a definite win!
I was actually pretty shocked when my daughter took her first quiz. She did great! She used the stories and songs from the program to remind herself of the math facts.
Her favorite character is Zero, the King.
The program teaches that zero times any number is zero, because zero is the king! He wants everyone to be like him.
She just thought that was hilarious!
Of course, there are lots of other characters, as well.
There are the sixes that are very thirsty!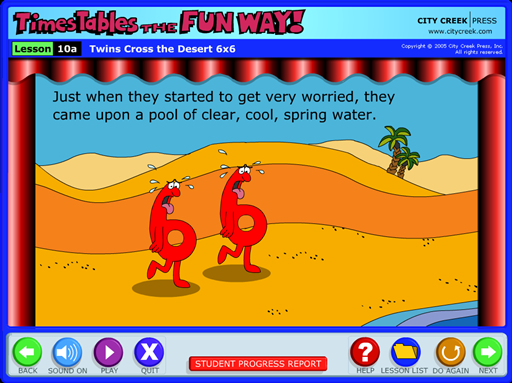 Fortunately, they did find water! :)
Here is the video for six times six if you are interested in seeing how the program works:
The gist
Basically, with this program, you will learn your multiplication facts using fun stories and songs. Research tells us this is the best way to learn!
I have been really impressed with how quickly my daughter picked up the information and I'm glad to have found the program.
I will definitely be sharing it with everyone I know!
Information at a glance:
What is it? Time Alive online multiplication program from Times Tables the Fun Way
For whom? Students (or adults) whom want to learn their multiplication facts
How much is it? Set up cost is $6.95 and then it is $9.95 per month for a subscription.