Does your high school student know what he or she wants to do when they "grow up"?? My high schooler has gone round and round with what she might want to do. So many options!
Let's assume your child does have an idea of what he or she wants to do as a career.
Apologia Educational Ministries (lovingly shortened to Apologia by most homeschool families) has a workbook that can help your child learn more about that career AND earn credit while doing so with their book, Internship for High School Credit.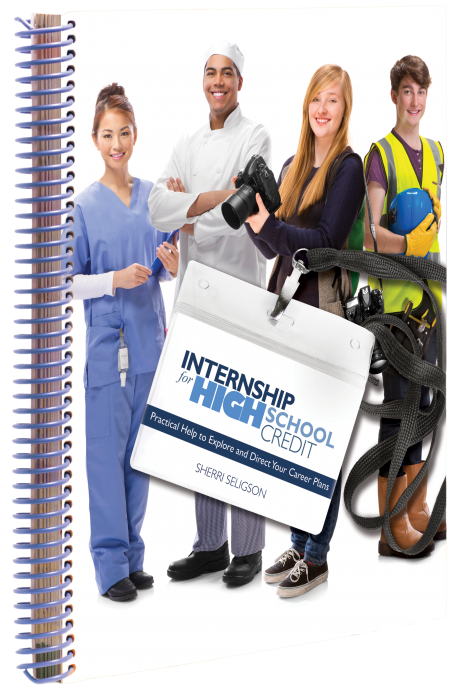 Internship?
What is internship anyway?? Well, the book explains at the beginning that back in the 1500's people would learn about and develop the proper skills for their desired job by working directly with other people who knew what they were doing in that field.
Then we moved on to a more "book approach" if you will. We mostly obtained our knowledge for our desired field by studying the information in books, likely in a college setting.
As a result, students today have very little, if any, hands-on experience for the field they will be entering and possibly working in for their entire life. This could end in a situation where once they begin working in that field, they realize it is not the place they want to be.
Doing an internship is the answer, in my opinion. If your child wants to be an engineer. Then he should work with an engineer for a period of time. That way he will have a better idea if it is something he would like to do 5 days a week for the rest of his life. (No pressure)
You may have also heard the term "apprenticeship". The differences between an apprenticeship and an internship are fairly small but important. An apprentice ship is quite a bit longer, usually three to six years. It is also usually a paid position, where you are actually doing the work you will eventually be doing. Whereas in an internship, you are not usually paid and you are more often just observing the job. Of course, it completely depends on the type of job and the boss as to how much hands on work you will be able to do while doing an internship.
In either case, you can be offered a paid position at the end of your internship (or apprenticeship).
The Internship for High School Credit Workbook
Since we rarely do internships anymore in this "day and age" (I feel so old using that phrase!), this workbook will help walk you through the process. It is designed to be a one year (one credit) class, but can also be used for just one semester (half credit).
There are 5 parts to the workbook.Part 1 is called "getting started" and concentrates on just that. Determining what kind of field you want to work in, what business or businesses would be best to intern for that particular career.
Part 1 is called "getting started" and concentrates on just that. Determining what kind of field you want to work in, what business or businesses would be best to intern for that particular career, writing a resume, a letter of introduction to your prospective business, and the interview. This section is mostly geared towards the student to read.
Like I said above, my daughter isn't quite sure what she wants to do as a career. The workbook addresses that as well and helps your child brainstorm.
Part 2 is for you, the parent. It gives advice on how to properly help your child with this process. It also helps you with the paperwork side of things and guides you through how to award your child with high school credit for this journey.
Parts 3, 4, and 5 are for the student to work through during his or her internship. Part 3 is for use during 1st semester, Part 4 is for 2nd semester, and Part 5 is for post internship (thank you notes, letter of recommendation, updating your resume, and a final writing assignment).
For My Family
Again, my daughter is still undecided as to what she wants to do when she grows up. She is just going into 10th grade next year, so she doesn't HAVE to have all this figured out yet.
That being said, I'm glad we are equipped with this book for a year or two from now when she will be ready for an internship in whatever field she chooses. Or maybe she will intern in a couple of different fields to help her figure it all out!
This workbook has helped begin that conversation, though, so I'm thankful for that. The conversation will continue!
If you want to see what my fellow crew members thought of Internship for High School Credit  OR How to HOMESCHOOL with Stunning Confidence, Contagious Joy, and Amazing Focus (DVD & Coursebook) feel free to click the button below!