Home School in the Woods (HSITW) is always a popular review in TOS Homeschool Review Crew land! All the bloggers want a piece of their wonderful history curriculum to try out with their family! These last few weeks, my family was one of those lucky families and we had a chance to look into their Make-a-State Activity  curriculum, which is part of their Activity-Paks series.
What is Home School in the Woods?
Oh, wait… you haven't heard of them yet? Or maybe you have, but you just haven't taken the time to look into it yet? (I totally get that! There never seem to be enough hours in the day.)
HSITW is a hands-on history company, with multiple product lines, including Time Travels American History, Activity-Paks, Lap-Paks, (we reviewed their U.S. Elections Lap-Pak last year) Project Passport (which we also have reviewed in the past), and Timeline Trio.
If your kids are kinesthetic (hands on) learners then Home School in the Woods might be the perfect history curriculum for them!
Hands-on History
With HSITW, your kids will be cutting, pasting, coloring, and maybe even acting and cooking, depending on how creative your family likes to get!
They will make lapbooks, "travel" to different places around the world, and learn about the people and happenings in history.
The Make-A-State Activity-Pak will have your child creating a wonderful lapbook for every state! You can do the states in any order you want. I'm sure that doing them in the order they became a state is a popular way to do it, but that is not how we are doing it.We have family all over the place, unfortunately. So, I thought it would be great to study all the states where we have
We have family all over the place, unfortunately. So, I thought it would be great to study all the states where we have family.
Doing it this way gives us a great starting point, because we have family in Tennessee, Florida, Louisiana, Missouri, Michigan, Pennsylvania, New York, California, Georgia, Kansas, Colorado, North Dakota, Alaska, and Hawaii. To be fair, the one in Hawaii is only there because he is in the Navy and stationed there (actually he is deployed somewhere in the ocean right now, so prayers are welcome!). I may be forgetting a state, but I'm pretty sure that's it. If we do one state a week (which I think is a pretty good pace for most states), just studying the ones where we have family fills up a good portion of the school year!
Make-A-State Lapbook Activities
There are 20 projects for your kids to do for each state's lapbook. Those projects include:
Key State Facts
Origin of State Name
State Motto, Symbols, Song, and Wildlife
State Industry, Agriculture, and Climate
Regions of the state
State Geography
State Government
State Seal & Flag
State History
Famous People From Each State
Native Tribes from Each State
State Landmarks
Sports Teams
State Quarter (see a fun variation for this below)
Recipes (yay!!)
State Vocabulary
State Timeline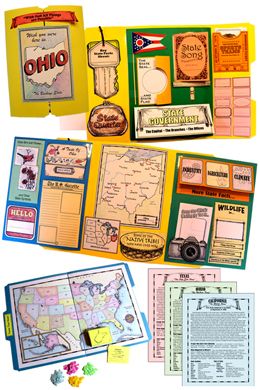 There is also a state page for each state and Washington, D.C. which is basically a "report" on the state. That being said, it is recommended you go to the library and check out books on the state you are studying as well as looking information up on the internet about it.

And finally, there is also a really cool "Name That State!" file folder game! :)
What else?
My fellow reviewers recieved different products than me. I would recommend you click the link below to check them out. Other Activity-Paks being reviewed are: The Old Testament, The New Testament, Composers, and Artists if the Activity-Paks seem interesting to you, definitely check it out!
Also… brand new to HSITW… they are offering a-la-carte projects!
Check out this FB post for more info: