The Presidential Game is a board game of strategy where you try to win the presidency. You do this by being the first player to get to 270 electoral votes.
My family was sent the game in order to facilitate a review for you all.
The game is for ages 11 and up and is $35. Although, my 9 year old played it and had a great time. He had no problem keeping up at all!
The Presidential Game is great if you are trying to teach your kids about the electoral college! That being said, this game is fun for adults as well.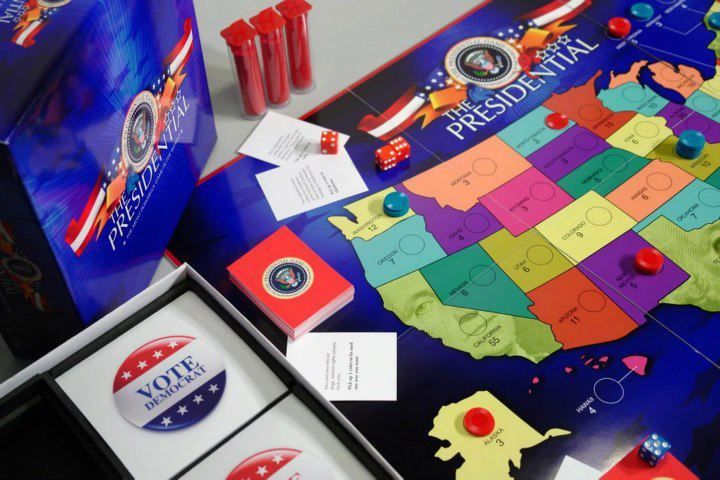 When we first opened it up, the directions are a bit overwhelming (at least for me). That feeling didn't last long, though, once we dove in and just started playing. I think that's how a lot of games are… the directions can often seem overwhelming until you get into the game.
The goal of the game is to be the first person to gain control of the most states and get to 270 electoral votes in 30 weeks time. The first time we played, I chose to have it last for 15 weeks, just so the kids wouldn't lose interest right off the bat. That really wasn't a problem, though, because the kids liked the game a lot!
The game starts with the players deciding if they are going to be Republican or Democrat. Once that is decided, you separate out the blue chips and dice and red chips and dice and give them to their respective parties.
On each turn, the player has to decide if they want to go campaigning or fundraising. Let me explain each of those options.
Campaigning:
If the player decides they want to go campaigning, they need to choose 3 states they want to campaign and announce them to the other player/team. Then they roll their 3 dice. Each dice represents votes for one of the 3 states the player chose. They get to pick which die to assign to which state. For example, if they pick Washington, Texas, and Tennessee and roll 5, 3, and 4, they can choose to put 5 votes on Tennessee, 3 on Washington, and 4 on Texas. Or any other combination they choose using the numbers on the 3 dice. Once they add their votes, their turn is over.
Fundraising:
If the player decided to go fundraising on their turn, they can pick from 4 states to go fundraising: Texas, New York, California, and Florida. And, again, they announce the state to the other player/team. They then roll the 3 dice. They have to use at least half the amount on the dice as their votes for the state in which they are fundraising. The remaining votes may be distributed however they please. For example, if the total roll was 16, then they would put at least 8 votes on their fundraising state and the other 8 can be wherever they want. Hypothetically, they could put one vote on 8 different states if they wanted to do it that way. That being said, they could also put ALL 16 votes on their fundraising state.
After they place their votes, they then pick a card from the stack of politics cards. Each of the politics cards has something unique on it. One example is, "Your opponent is criticized for taking too much vacation time during their campaign. Place 5 votes on any one state of your choosing."
Once the player has done whatever is on the politics card, their turn is over.
Okay. That is what is done on each turn. Once each player has played a turn, that completes one "week" of the campaign. Like I said above, there are 30 weeks of campaign during the game.
During each week you will use the provided score cards to keep track of your electoral votes or you can use the Webmap Calculator on The Presidential Game's website. With the game, is a passcode you can use to access the calculator. I found that to be a VERY useful tool if you have younger kids and you don't want the game to last as long.
If you want your kids to work on their math skills, forego the calculator and have them use the score cards.
The game ends when your 30 weeks of campaigning is over (or how ever many weeks you selected). Whoever has at least 270 electoral votes is the winner. If you still have states that are neutral, then each person gets to roll the dice for each state and the one with the highest roll gets the electoral votes for that state.
Here is our game set up with my laptop open to the Webmap Calculator.
This game is a lot of fun and really helped my kids understand the election process a bit more.
Information at a glance:
What is it? A strategy board game called The Presidential Game
For whom? The box states ages 11 and up, but you can play in teams to allow younger players to be involved. Also, my 9 year old played with no problem.
How much is it? $35 plus shipping
Where can I buy it? On The Presidential Game website