Today, I want to tell you about a company called Standard Deviants Accelerate.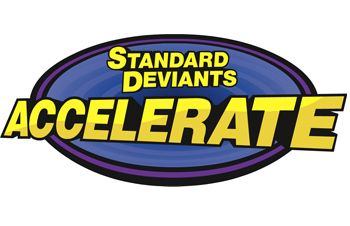 We have been given a subscription to all of their Standard Deviants Accelerate Homeschool Courses to use with our family.
There are so many classes with this program.  Classes that many of you may send your child to a tutorial program to take.  Now there is another option!
Here is a list of all the classes offered and the suggested age for it:
Arithmetic – Grades 3+
Fundamental Math – Grades 4+
Earth Science – Grades 6+
Nutrition – Grades 6+
Algebra – Grades 7+
Biology – Grades 7+
Chemistry – Grades 9+
English Comp. – Grades 9+
U.S. History – Grades 9+
AP Biology – Grades 11+
AP Chemistry – Grades 11+
AP U.S. Government & Politics – Grades 11+
AP U.S. History – Grades 11+
AP Eng. Composition – Grades 11+
Most of these are too old for my kids, because my oldest is in 7th grade, but the rest look great and I will be tucking them away in my mental file folder for future use!
My oldest 2 (5th and 7th grade) did the Earth Science class together.  I frequently will have them do that.  This give my oldest a good review, or gives her new information if we happened to miss it.  It also gives my youngest a head start on material that may be above his grade level.  Plus, when they do it together, they tend to discuss it more than if they just did it on their own.  Of course, they will learn more if they are discussing the information along the way!
My oldest is not a big fan of doing school with her little brother, but she tolerates it pretty well.  She's good like that. :)  He likes it, though.  I think he likes any time they get to do school together.  He may not admit it most days, but he loves that girl.
Anyway… more about the program!  But before I get into it too much, I want to make sure you know you can get a 6 month free trial!!!  Click the picture below to check it out.
While these courses are intended as a supplement, as you can see in the image above, it includes video lessons, quizzes, writing assignments and tests.  Honestly, while my kids were doing it, it seemed to be a full program.
The video lessons are just busy enough to keep a child's attention, while still getting all the information across that is important.  In each video there are many different people that are telling the information.  And, of course, it includes a quirky person or two, to give the kids something to giggle (or roll their eyes) about.
Here is how we used it in our home… My oldest two did the Earth Science class together.  They would watch the video and go over all the vocabulary words together.  Then they would take the quizzes and tests individually on their own computers.  They also did the writing assignments on their own.
I think it's a great program, in that it really doesn't take a long time to do each day and since it's only meant as a supplement anyway, I'm glad it doesn't take long.  The more information we can give our children, the better off they will be.  This program gives the information in a way that is easy for kids to understand and remember, because they do it in an interesting way, while sometimes adding a little humor.
Oh… I almost forgot to tell you… you also have your own teacher account where you can track your children's progress and see when they are doing their work and how they are doing on quizzes and tests!
Information at a glance:
What is it? Online curriculum with subjects from math to History to Science to English Composition and MORE!
For Whom? Mostly, it is for Middle and High School Homeschoolers, but two of the math courses are for grades 3+ and 4+

How much is it? You can get a course for use by one student for $99 for a year, or for $24.95 per month.
AP courses are also available for one student for $14.95 per month.
For complete pricing information, click here.